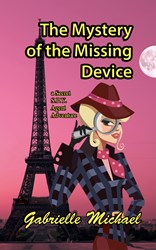 The simplest way to make sure that we raise literate children is to teach them to read, and to show them that reading is a pleasurable activity. ~ Neil Gaiman
(PRWEB) January 28, 2014
Every parent faces the same challenge - how do they develop critical thinking and problem solving skills in their children? Even the kids struggle at the same time to develop these skills. So when young author, Gabrielle Michael found herself confronted with the same challenges on a creative writing school assignment, she found a unique answer to her problem. She decided to transform her love of travel and her close relationship with her sister into an imaginary adventure story that took the both of them to Paris to solve a mystery as agents of a secret spy agency.
The task of improving critical thinking and problem solving skills amongst children becomes harder when the child's early reading proficiency is low. Something which is not uncommon, when according to a recent 2014 report by the Annie E. Casey Foundation, 66 percent of all fourth-graders in the United States are not reading at grade level.
So, why mystery stories?
– Children have to learn to read properly and pay close attention to the details of the story so that they do not miss any clues.
– They can actively involve themselves in the story by following the various clues scattered throughout the mystery. This encourages them to develop their critical thinking and problem solving skills.
– Mystery stories also provide the "can't-put-it-down" factor, the edge of suspense that will keep children interested until the end.
If children find a book that makes them love to read, they will only want more, which isn't a bad thing after all.
Gabrielle Michael is the author of The Mystery of the Missing Device, a secret S.P.Y. agent adventure story for kids, released by Islandreamz Publishing and available on Amazon in paperback and on kindle at http://www.amazon.com/dp/B00HRFHK2C. Members of the media who wish to review her book may request a complimentary copy by contacting the publisher, Islandreamz Publishing at + 1 (817) 668-6839.