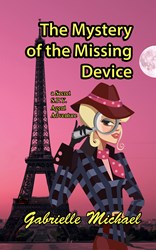 The more that you READ, the more things you will KNOW. The more that you LEARN, the more places you'll GO ~ Dr. Seuss.
(PRWEB) February 05, 2014
With the unusually heavy winter storm marching across the nation's mid-section, threatening roughly two-thirds of the country with what forecasters said could be up to a foot of snow, many kids are likely to be stuck at home. So, instead of letting the kids spend the day watching television or playing games on the computer, why not turn this into an opportunity to spark their imagination? Ten-year-old author Gabrielle Michael, who turned a creative writing school assignment into a short story for children in her debut novel, The Mystery of the Missing Device, offers up her ideas.
A recent study by Scholastic found that almost half of parents said their child does not spend enough time reading books that are not assigned for school.
So, why not take this opportunity to spark the kids' imagination with a new e-book and get them to read for fun?
Seventy-two percent of parents show an interest in having their child read e-books, and with everyone being stuck indoors, e-books are just a click away. Even half of children age 9-17 say they would read more books for fun if they had greater access to e-books. Not to mention that e-books are friendly to the environment and the pocketbook, and easy to access especially when everyone is stuck at home.
Reading takes the children to imaginary worlds when they are stuck at home, giving them the opportunity to broaden their minds and explore new things and places without even stepping outside. Reading a new book today might even make them want to read more tomorrow.
Parents can take it one step further by encouraging their children to develop their creativity and come up with stories of their own, which they can tell to their parents or put down on paper, to be shared later with friends and family.
Once their imagination is fired up, their potential is limitless.
Gabrielle Michael is the author of The Mystery of the Missing Device, a secret S.P.Y. agent adventure story for kids, released by Islandreamz Publishing and available on Amazon in paperback and on kindle at http://www.amazon.com/dp/B00HRFHK2C. Members of the media who wish to review her book may request a complimentary copy by contacting the publisher, Islandreamz Publishing at + 1 (817) 668-6839.