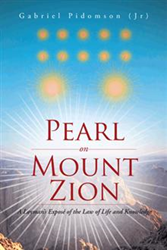 "Pearl on Mount Zion" presents the raw truth that teaches the reader to obey the commandments not by focusing on the law, but on love.
ABUJA, Nigeria (PRWEB) August 21, 2015
After several encounters with God in his visions and dreams and being miraculously saved from an assassination attempt and a strange illness, author Gabriel Pidomson (Jr) contemplated how he can further serve God through his work. It was then that he conceived the idea of writing a book on the Ten Commandments. From a 50-page manuscript, it expanded into a 400-page book, released earlier this year with the title, "Pearl on Mount Zion - A Layman's Exposé of the Law of Life and Knowledge (published by AuthorHouse UK)."
Pidomson noticed that humanity's understanding of God's basic commandments has become too wrapped in complexities, making them more difficult for people to understand and therefore, follow. With the goal of resolving this dilemma, he traces the origin of sin and unpacks each commandment in plain language. The style adopted by Pidomson enables the reader to deal with and appreciate why these laws are captured under the law of love–divided into the love of God and the love for one's neighbor–and how they transform into the new commandment given by Jesus in John 13:34.
"The book is packed with covenant truths, supported with 809 references from various versions of the Bible, depositories, sermons, pastoral letters and other scholarly sources that are not only informative and spiritually nourishing, but also interesting," says Pidomson. "It should be read with the understanding that human knowledge of God's ways and commandments can only scratch the outskirts of the ways of God (Job 26:14), and we cannot understand the thunder of his power."
The book breaks down each commandment and outlines ways by which they can be contravened, their implication, and uses examples to teach how to avoid such contraventions. It further outlines the laws with respect to the laws of love and how loving God and fellow humans are captured in keeping each commandment.
"Pearl on Mount Zion" presents the raw truth that teaches the reader to obey the commandments not by focusing on the law, but on love.
"Pearl on Mount Zion"
By Gabriel Pidomson (Jr)
Hardcover | 6x9in | 474 pages | ISBN 9781504935333
Softcover | 6x9in | 474 pages | ISBN 9781504935326
E-Book | 474 pages | ISBN 9781504935319
Available at Amazon and Barnes & Noble
About the Author
Gabriel Pidomson (Jr) is a lifelong politician, academic, knight of the Church and philanthropist. He is the author of three other books: "Nigeria the Bleeding Giant," "National Service Strategy for Integration" and "Ogoni at Crossroad." He was a former member of the Rivers State House of Assembly and later Secretary to Government (SSG), Rivers State, Nigeria. He holds three master degrees and a candidate for the Ph.D. in information systems management. Pidomson is committed to helping leaders discover how they can release their full potential as teachers, political leaders and workers in the vineyard of Jesus Christ.
AuthorHouse UK Ltd., is an Author Solutions, LLC, supported self-publishing services and a leading provider of self-publishing, marketing and bookselling services dedicated to serving authors throughout the United Kingdom. AuthorHouse UK is committed to providing authors the best self-publishing experience through a wide array of products and services designed to help individual authors realise their unique creative vision. AuthorHouse UK consultants provide guidance to authors throughout the self-publishing process. To date, AuthorHouse UK has released more than 6,500 titles. For more information or to begin publishing a book today, visit authorhouse.co.uk or call 0800-197-4150 or follow @AuthorHouseUK on Twitter for our latest news and updates.
###