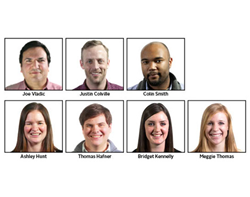 GA is an agency that is wholeheartedly committed to bringing the best and brightest on board.
Chicago, IL (PRWEB) March 14, 2014
Chicago-based GA Communication Group, a full-service healthcare agency, announces the addition of 7 new hires in first quarter of 2014.
Joe Vladic officially joined the GA team as an Analytics and Users Insight Manager. Joe brings a heightened understanding of marketing trends, as prior to his being hired at GA, Joe served as a Digital Marketing Strategist for SIRVA where he conducted market research on online user behavior, mobile devices, and the next generation technologies.
Justin Colville as a Senior Producer. Previously, Justin was a Product Owner and Scrum Master for CS STARS, an organization that provides Claims Administration and Risk Management software. He has extensive experience in leading cross-functional teams in planning the development and testing efforts for software releases.
In February, GA Communication Group added two valuable assets to their staff. Colin Smith was hired as a producer and previously, Colin was a Project Manager for Argus Healthcare Solutions. There, he was responsible for all phases of electronic health records implementation projections, including client marketing and branding of materials, as well as management of workflow. Ashley Hunt came to GA Communication Group to fill a role in Human Resources and contribute as an Office Coordinator. Previously, Ashley worked as a Human Resources Generalist at Blue Plate Catering where she coordinated the on-boarding process, internship program, and day-to-day benefit and HR administration.
The first week of March saw the addition of three more promising hires. Thomas Hafner was brought on as a Junior Developer. Thomas's prior experience was gained from the time he spent working at the University of Iowa Information Technology Services where he was an Applications and Web Developer. Meg Thomas joins GA as a Project Coordinator. Previously, Meg was a Project Manager and Client and Consumer Relations Executive at higi where she lead communications with pharmacy managers and developed strategic branding. Bridget Kennelly was hired as a Project Coordinator. Earlier, Bridget interned at the Arthritis Foundation where she played an instrumental role in coordinating event fundraising and assisting in executive marketing goals for the organization.
"GA is an agency that is wholeheartedly committed to bringing the best and brightest on board," says Nancy Finigan, President. "With premier talent and insight, we can dedicate ourselves to the most important person: the Client. The addition of Joe, Justin, Colin, Ashley, Thomas, Meg, and Bridget to our team is thrilling and not only furthers our capacity to serve the Client, but also serves as an indicator of our growing business."
About GA Communication Group
GA Communication Group is a full-service communication agency with a specific expertise in the healthcare space. With diverse clients and brands that range from highly scientific, specialized clinical therapies to consumer and OTC products, GA enters its 32nd year having doubled size in both revenue and staff since 2008, earning recognition from INC. 500 as one of the nations' fastest-growing private businesses every year for the last four years. GA has long been valued for its strategic insight, creative ideas, and execution, and has evolved and developed significant core competencies and expertise in building and delivering campaigns in all digital, social, and mobile media platforms as well.
For more information, visit http://www.gacommunication.com.