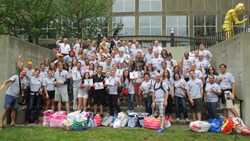 It was an honor to team up with the Windy City Fieldhouse and Chicago Youth Centers for our enGAge project this year.
Chicago, IL (PRWEB) September 11, 2013
For their annual summer outing, GA Communication Group participated in the Windy City Fieldhouse Mission Impossible Scavenger Hunt to purchase and donate critical school and camp activity supplies to Chicago Youth Centers benefiting low-income, at-risk children and teens.
Chicago Youth Centers (CYC) is Chicago's largest independent, locally based, multi-site youth services organization. "It was an honor to team up with the Windy City Fieldhouse and CYC for our enGAge project this year," said GA Senior Director of Talent, Laura Romanenko. "The Windy City Fieldhouse hosted a great event, and we are proud to have been able to contribute to the CYC's effort to encourage children in underserved communities. The supplies we donated will help provide opportunities for these children and teens to realize their full potential."
Windy City Fieldhouse volunteers led over 80 GA employees around the city collecting the required items. Upon completion of the scavenger hunt, GA Communication Group had donated a total of $2,200 in supplies to help supplement the CYC's mission.
"This is exactly what the enGAge program is all about," commented Jody Cahill, Senior Vice President, Director of Agency Operations. "Taking the teamwork we've built in the office that allows us to be successful in serving our clients and applying it to help those in need. The effort from all of our employees and the way the agency came together for such a great cause makes me proud to be a part of GA."
About GA Communication Group
GA Communication Group is a full-service communication agency in every sense, with unique expertise in the healthcare space and diverse clients and brands that range from highly scientific, specialized clinical therapies to consumer and OTC products. Established in 1982, GA has long been valued for its strategic insight, creative ideas, and execution, and has developed additional core competencies and expertise in building and delivering campaigns in all digital, social, and mobile media platforms from offices in Chicago and San Diego.
For more information, visit http://www.gacommunication.com.