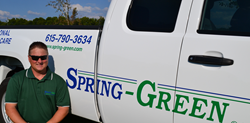 I purchased my own Spring-Green franchise to boost sales and revenue.
Mufreesboro, TN (PRWEB) March 24, 2015
Rodney Gaddis of Franklin, TN has been a Spring-Green franchise owner for ten years and has always held a passion for lawn care. He began working in the lawn care industry when he was only 17 years old, which jumpstarted a successful career journey for Rodney.
Rodney took hold of his entrepreneurial personality in the early 1990's when he and his wife Heather started their own commercial mowing, hardscaping, and maintenance company called Gadco. The Gaddis' were sub-contracting lawn care to another company, preventing them from retaining all of their potential profit. So, in 2005, Rodney decided to purchase the Franklin, TN Spring-Green franchise so he could control his own business, retain the profits in the lucrative area of fertilization and weed control, and also expand to residential which would maximize his opportunity for building recurring revenue. "I wanted an all-encompassing business – fertilization and weed control - instead of sub-contracting those services," says Gaddis, "I purchased my own Spring-Green franchise to boost sales and revenue," continues Gaddis.
Gaddis has not stopped growing, and recently expanded his Spring-Green franchise to the Murfreesboro, TN area in 2015. Rodney says the expansion is a great business move because of the rapid residential growth in the area and the potential for building high density in areas he currently has business. The decision to expand was also influenced by their son, Aaron, who will soon be joining the family business full-time.
Aaron Gaddis will be graduating in December with a Bachelor's degree in Plant Soil Science and Rodney says that Aaron will be highly involved in their new Murfreesboro, TN territory. Aaron has been learning the business for the past several years, and Rodney anticipates that Aaron will acquire the necessary knowledge to eventually manage the new territory.
Rodney says his passion has always been to be a business owner and to provide an ideal life for his family; "I have been able to make a great living for my family, doing what I love. Heather and I make a great team. She manages the office side of the business, and I take care of the labor and field work," says Rodney. By working as a team, they have been able to consistently develop their business over the years and offer a full range of lawn care services to their growing customer base.
###
About Spring-Green Lawn Care
Founded in 1977, Plainfield, Illinois-based Spring-Green Lawn Care has been delivering lawn and tree care services nationwide for over 38 years. Its service is centered on the beautification of residential and commercial customers in middle-class and affluent neighborhoods and communities. Spring-Green is an attractive opportunity for entrepreneurs and existing green industry business owners who want to align themselves with a franchise opportunity that has proven economic resilience, healthy profit margins, industry leading business and marketing intelligence, recurring revenue, and retirement and family planning through business ownership. Spring-Green currently has 127 franchises operating in 25 states. Spring-Green Lawn Care franchise owners gave the franchise opportunity a 96 percent overall quality rating, according to the Franchise Research Institute September 2013 survey. For more information, visit http://www.springgreenfranchise.com.