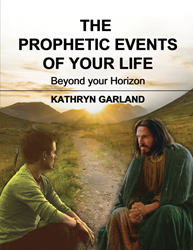 "After you die, your body will lie in the grave until the First Resurrection of God's children. Then, your new, glorified body will be reunited with your soul and spirit to enjoy eternal life in the presence of God."
DALLAS and ST. LOUIS (PRWEB) December 19, 2018
In Kathryn Garland's new book, The Prophetic Events of Your Life: Beyond Your Horizon, she explores how the moments we experience are interconnected with the lives of others. Every life is part of a universal plot that the Lord has for everyone, which challenges believers to make the most of the life that is given to them. This begs the question of how one will be able to make an impact on Christ's Church and what your place will be in the end-time.
The author tells readers that we are connected to the past and the future. She says that who we are is a direct result of the traits we inherit from our ancestors, and will be the same for generations to come. This applies to our spiritual life as well; when we are part of the story of Christ, we inherit spiritual ancestors along with a rich heritage, and we will gain spiritual descendants and pass our own legacy on to them.
Using a specific interpretation of different books of the Bible, Kathryn discusses the significant events in a person's life: birth, rebirth, and death. She describes this series of events for believers and nonbelievers, as well as those who have yet to experience new birth, and she differentiates what happens during the Rapture for these individuals. "You will be you; however, you will be a new you," says the author. "In every way, physically, emotionally, mentally, and spiritually, you will be perfect and liberated from all the bonds that kept your life from wholeness of joy, holiness, and usefulness." Throughout the study, the author interacts with readers by asking certain questions for them to answer and reflect on. This allows them to identify what their possible place might be when the Rapture occurs.
Kathryn Garland earned her Bachelor of Biblical Studies in Missions from Crown College (then known as St. Paul Bible College) in St. Bonifacius, Minnesota. Since 1958, Kathryn and her husband Herb served as Christ's ambassadors in home missions and overseas through Beefhide Gospel Mission in Kentucky and The Christian and Missionary Alliance in Colombia and Venezuela, South America. They retired in 2001 and are currently enjoying their 5 children, 17 grandchildren, and 16 great-grandchildren.
Her work involved teaching in pastoral and leadership preparation as well as lay training in both Colombia and Venezuela. She taught many different courses involving Prophetic Events, such as, Prophecy, Hermeneutics, Bible, Church History, and Teaching Methods.