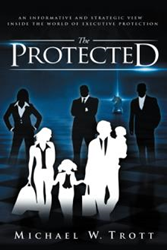 PHOENIX (PRWEB) June 14, 2019
Executive protection ("EP") is a profession that has been utilized throughout history. In "The Protected" (published by Archway Publishing) shares information on the background of what EP is and details of some of the places he has worked throughout the world in his more than 30 years devoted to protecting others in the CIA, Air Force and private sector.
Trott provides an informative and strategic view of EP, also unveiling the many human complexities surrounding the personal service that sometimes can mean the difference between life and death. In a world where risks and threats are ever-evolving, his book includes real-world accounts and illustrations for the practical application of the principles of close protection, and also gives the reader a personal insight into Trott's life.
"Technology is rapidly changing how we live and part of my book breaks down the good, bad and the ugly sides of it," explains Trott. "Online activities have motivated terrorists and even inspired 'lone wolf' attacks. Those who have a high-profile social presence can become targeted due to the publicity they attract. However, one doesn't even need to be ultrawealthy to require some form of EP, and may include business executives, government leaders, celebrities and travelers to high-threat areas of the world."
"The Protected" is intended to assist some readers in making a decision as to whether or not EP is required in their lives, provide all readers with an understanding about who provides this type of service and entertain everyone with some of the most memorable stories of Trott's career. The book is available for purchase at: https://www.archwaypublishing.com/Bookstore/BookDetail.aspx?BookId=SKU-001191086.
"The Protected"
By Michael W. Trott
Hardcover | 6 x 9 in | 424 pages | ISBN 9781480870987
Softcover | 6 x 9 in | 424 pages | ISBN 9781480870994
E-Book | 424 pages | ISBN 9781480871007
Available at Amazon and Barnes & Noble
About the Author
Michael W. Trott is a respected and accomplished international security and intelligence professional with over 30 years of combined military, CIA, Fortune 100 and private-sector experience, serving corporations and ultra-high net worth principals and their families. He has traveled and operated in over 90 countries and lived abroad for more than a decade of his career, and continues to provide confidential advice and assistance to a diverse group of international clients.