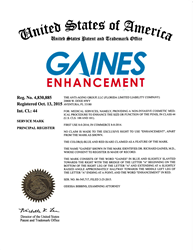 "This trademark, means the uniqueness of this procedure is now officially recognized on a national basis." says Mark White, CEO of HealthGAINS
Miami, FL (PRWEB) February 18, 2016
HealthGAINS, is pleased to announce the Gaines Enhancement® "providing a non-invasive medical procedure to enhance the size and function of the penis," is now a registered trademark.
Dr. Gaines developed the Gaines Enhancement® procedure several years ago as a drug-free, surgery-free alternative cure for erectile dysfunction and other sexual wellness issues faced by men over 35.
"This trademark, means the uniqueness of this procedure is now officially recognized on a national basis." says Mark White, CEO of HealthGAINS.
The Gaines Enhancement® uses Platelet Rich Plasma (PRP), and other proprietary ingredients to increase blood flow and improve sexual function.
Dr. Richard Gaines, creator of the Gaines Enhancement® and Chief Medical Officer of HealthGAINS says, "Every ingredient in the Gaines Enhancement® is all natural, and has been custom compounded for maximum safety and efficacy. PRP is made from your own blood cells, so there are little or no known side effects to PRP Therapies such as the Gaines Enhancement®."
The trademarked procedure is one of the only non-surgical male enhancement techniques that has been clinically proven to both improve erectile function as well as increase penis size. It is also proving to be a beneficial treatment for men with Peyronie's Disease.
Dr. Gaines is currently treating patients with the Gaines Enhancement® at both HealthGAINS Aventura and their latest location in Miami Beach.
# # #
HealthGAINS is one of the nation's leading providers of physician-guided age management solutions, including hormone replacement therapy, platelet rich plasma, and sexual wellness treatments for men and women. HealthGAINS has a network of over 25 affiliates throughout the United States. For more information, visit healthgains.com