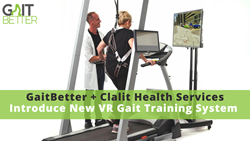 Between the two largest HMO providers in Israel, Clalit Health Services and Maccabi Healthcare Services, more than 80% of Israel's adult population now have access to GaitBetter's solution
BETHESDA, Md. and TEL AVIV, Israel (PRWEB) January 27, 2022
Clalit Health Services, the leading HMO in Israel, and GaitBetter, a provider of a motor-cognitive intervention for gait rehabilitation and fall prevention, are partnering to bring GaitBetter's innovative system to Clalit's 4.7 million patients. Clalit will use GaitBetter's systems in dozens of locations across Israel.
Clalit, along with many other service providers, found that the GaitBetter system offered a solution that fits many of their patients' indications.
Igal Lebran, Chief Physiotherapist of the Clalit Health Services commented, "We are happy to add GaitBetter's motor-cognitive therapy to our rehabilitation and physical therapy clinics. This is another step in our continuous commitment to provide the best technologies and rehabilitation services to our members and communities."
This follows GaitBetter's recent US market launch, where a growing number of leading rehabilitation centers, physical therapy clinics, assisted living facilities, and continuing care retirement communities are already using GaitBetter's state-of-the-art solution.
The GaitBetter digital therapeutic solution adds a virtual reality (VR) experience to any treadmill and provides a personalized and clinically validated motor-cognitive intervention that results in improved gait and brain functions leading to fewer falls and better quality of life. In over 18 peer-reviewed studies, GaitBetter demonstrated its efficacy and benefits in neurologic and orthopedic gait disorder rehabilitation.
Clalit Health Services, is the leading and the largest public health provider to over 4.7 million patients in Israel and is one of the largest HMOs in the world.
"It was great working with the Clalit team during their evaluation process. They are professional and dedicated to a high level of care. We're looking forward to a continued collaboration in the years to come," said Idan Abukassis, GaitBetter's Chief Operating Officer.
"Between the two largest HMO providers in Israel, Clalit Health Services and Maccabi Healthcare Services, more than 80% of Israel's adult population now have access to GaitBetter's digital therapeutic gait rehabilitation and fall prevention solution," said Hilik Harari Co-founder/CEO, GaitBetter.
"We are geared to achieve the same success in the USA in 2022," adds Hilik.
GaitBetter's innovative motor-cognitive approach to gait rehabilitation and fall prevention has been proven to outperform motor training alone. By adding a virtual reality component to treadmill training, the technology allows patients to practice real-life situations such as walking in a park or busy city streets while in the safety of the clinic.
GaitBetter's 'personalised exercise' approach combines virtual obstacles with decision-making, memory, and attention skills to improve dynamic balance, endurance, gait strategies, and cognitive abilities. In combination with other product features, GaitBetter increases gait and cognitive skills, improves self-confidence, and decreases accidental falls.
Visit GaitBetter at the American Physical Therapy Association (APTA) Combined Sections Meeting (CSM) on the 2-5th February 2022, Booth #1017, San Antonio, USA, to learn more.
http://www.gaitbetter.com | https://www.clalit.co.il/
For additional information, please contact:
info@gaitbetter.com