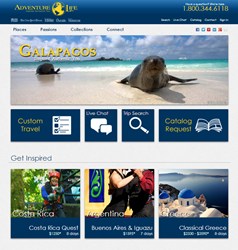 This is the first steep discount of six adventure travel offers we intend to make to celebrate our new look.
Missoula, MT (PRWEB) August 14, 2013
Leading Galapagos Tours expert, Adventure Life has announced a 35% off discount on its active Galapagos Land Tour for July 2014. The award-winning travel company unveiled its new website design for Central & South America tours and worldwide small ship cruises on Friday August 2nd and will offer a discounted tour every week for the next six. To learn more about Adventure Life's discounted Galapagos tour, call 800-344-6118.
"This is the first steep discount of six adventure travel offers we intend to make to celebrate our new look," said General Manager Jonathan Brunger. "We will be announcing a weekly discount to newsletter subscribers every Wednesday for the next six weeks."
To find additional discount details, travelers can Google Galapagos Tours, or subscribe to the Adventure Life newsletter to receive the announcement by email.
"We are excited about the website's layout, robust search capacity and easy navigability," continued Brunger. "The sharp photography better helps visitors find the trip that's right for them, whether it's one of our Galapagos tours, Patagonia tours or Antarctica cruises."
Next week, Adventure Life will be announcing a steep discount for one of its Antarctica Tours.
About Adventure Life:
Adventure Life is a company of travelers with a passion for sharing the world with others. Our travel experience runs deep, from years volunteering in rural Africa and Central America, to research trips in Asia, studying in Europe, guiding in the Rockies, and just bouncing around every corner of the world. This deep experience is the reason behind our pioneering approach to travel and award winning itineraries. For nearly fifteen years, we have been creating personal itineraries that immerse our travelers in the vibrant colors of a place, leaving both our guests and hosts enriched by the experience. From our beginnings as a Latin America specialist, we now offer private journeys, small group tours, and expedition voyages throughout the world. We pride ourselves on our intimate knowledge of our destinations and our dedication to sharing the world.