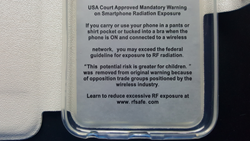 This year's Galaxy S7 has a SAR level of 1.59W/kg. Measured in watts per kilogram, the S7 is very close to the FCC's legal limit of 1.60W/kg.
Berkeley, California (PRWEB) June 11, 2016
A study released on May 24 by U.S. National Toxicology Program is the most credible link to cell phone radiation and brain cancer in animal studies, and with the announcement of the Samsung Galaxy S7 on March 11, 2016, it is important consumers know the S7 is among the highest SAR smartphones on the market.
According to John Coates, Founder of RF Safe, "Many older Samsung Galaxy smartphones still uphold some of the lowest smartphone SAR levels in the industry. However, this year's Galaxy S7 has a simultaneous transmission SAR level of 1.59 W/kg (measured in watts per kilogram) for FCC ID A3LSMG930F. The S7 is very close to the FCC's legal limit of 1.60 W/kg, averaged over 1 gram of stimulated human tissue. The S7 has a higher simultaneous usage SAR level than either the iPhone 6s, rated at 1.58 W/kg (FCC ID BCG-E2946A), or iPhone 6s Plus, rated at 1.56 W/kg (FCC ID BCG-E2944A)."
RF Safe has released a new style radiation shielded flip case, which, when properly used, is designed to reduce excessive radiation levels a cell phone user could be exposed to. "Mitigating health risk from RF exposure that we are exposed to all day long should be a concern of everyone's," says Coates.
On May 12, 2015, NBC Bay Area News reported that the city council in Berkeley, Calif. voted unanimously 9-0 on a Cell Phone Radiation Right-To-Know Ordinance that requires wireless retailers to warn customers of possible radiation exposure when purchasing cell phones. The cell phone radiation warning law in Berkeley, CA went into effect on March 21, 2016 as reported by NBC News.
RF Safe is making sure the public is aware of the risk involved when using wireless devices and they are taking an extra step in doing so. Inside each RF Safe case, a cell phone user will find Berkeley's radiation exposure warning that passed the approval of court hearings in California. The warning in each flip case also includes the original text declaring that cell phone radiation exposure carries a potentially greater risk for children, which was unanimously passed by all city council members on May 12, 2015.
The warning text that RF Safe includes inside each cell phone case is as follows:
"USA Court Approved Mandatory Warning on Smartphone Radiation Exposure. If you carry or use your phone in a pants or shirt pocket or tucked into a bra when the phone is ON and connected to a wireless network, you may exceed the federal guideline for exposure to RF radiation."
"This potential risk is greater for children" was removed from the original warning because of opposition trade groups positioned by the wireless industry.
These 2nd generation RF Safe cell phone radiation shielded cases with the above warning label are available now in 4 colors:
*Black
*White
*Blue
*Bronze
https://www.rfsafe.com/product-category/samsung/galaxy-s7/
According to the company's CEO, additional RF Safe Galaxy S7 case colors are expected to be available on August 1, 2016
As an extra safety precaution, RF Safe also suggests using an air-tube headset over the wired headset that comes with the phone to further reduce RF exposure from headset wires.
https://www.rfsafe.com/product-category/phone-radiation-safety/rf-safe-air-tube-headsets/
RF SAFE is a world-leading provider of cell phone radiation protection accessories and informational safety data. Since 1998, RF (Radio Frequency) Safe has been dedicated to evolving the wireless industries safety standards by engaging in the business of design, testing, manufacture, and sale of safety technologies to mitigate harmful effects of cell phone radiation. Learn more ways to avoid excessive RF exposure by visiting RF Safe online at rfsafe.com