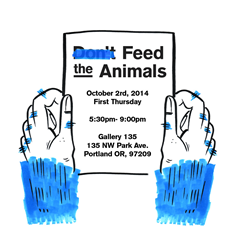 No matter how busy life gets, animals always have the power to transport us back to the present moment.
Portland, Oregon (PRWEB) September 25, 2014
On First Thursday, when major art galleries share their newest exhibits in Portland's cultural district, Gallery 135 is hosting the art show "Feed the Animals" from 5:30 to 9PM. Located at 135 NW Park Avenue, Gallery 135 is home to IDL Worldwide and Portland's creative community.
On Thursday, October 3, 2014 work by featured artists Kara Burke and Sheri Smith will be on display for "Feed the Animals," a show dedicated to the creatures of the earth.
All art will be available for purchase, including doodles, paintings, prints, 3D pieces, pillows, screen prints and more.
"No matter how busy life gets, animals always have the power to transport us back to the present moment," said Sheri Smith, featured artist and previous IDL Senior Visual Designer. "The fuzzy, fat, squishy, pokey, slimy, wonderful beasts who remind us all to slow down and appreciate the wilder things in life."
Both artists have worked as full-time employees at IDL Worldwide. Kara Burke, IDL Office Manager, is an illustrator and crafter whose work is featured at a handful of local boutiques, including Crafty Wonderland. She has worked with various animal-loving clients, including PETA and pet rescues across the country. Full-time designer, Sheri Smith, has worked locally and exhibited internationally. She most recently collaborated with The Young Friends in Derbyshire, UK for Journey of Discovery.
Supporting artists include: Brian Eyler, Brian Madden, Brandon Hrycyk, Joe Schlaud, Ryan Everson, Nick Maier, Leslie Warra and Matt Howard.
Refreshments will be served.
Event Information:
#feedtheanimalspdx
Date: Thursday, October 2, 2014
Time: 5:30PM – 9:00PM (PDT)
Location: IDL Worldwide, Gallery 135 |135 NW Park Avenue, Portland, OR 97209
Cost: Free
For more information, contact Allison Duval, Marketing Communications Coordinator at aduval(at)idlww(dot)com
About Gallery 135:
Gallery 135 serves as a home for IDL Worldwide, Crack and Satori Engine — all members of the Matthews International global family. By bringing together creative thinkers, artists, designers, strategists and ethnographers, Gallery 135 provides a platform for new ideas to present themselves to the world. Open every First Thursday and for special engagements including instructional classes and lectures.
About IDL Worldwide:
IDL Worldwide, a division of Matthews International (http://www.matw.com), is a global retail design and project management services firm that delivers strategy, creative, execution and reporting of in-store marketing programs that range from temporary graphics to store fixtures. With Brand Centers in Pittsburgh, PA and Portland, OR, and offices in San Francisco/Oakland, Chicago, Mexico, Germany, Brazil and China, IDL's retail-centric approach spans from generating brand strategy to fabricating brand solutions.