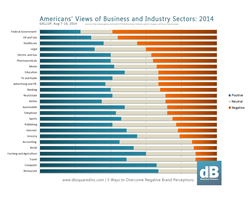 If your business falls within an industry viewed unfavorably by a majority of American consumers, you may need to do more to prove your organization's value to customers and prospects. - Elizabeth Kraus, DB Squared
Seattle, WA (PRWEB) September 20, 2014
Deserved or not, many businesses find themselves in industries with less-than-stellar consumer opinion. If your organization is represented in the list of least-favorably viewed industries reported this week by Gallup, you may find that you face an uphill marketing battle. DB Squared marketer and small business marketing author Elizabeth Kraus explains how transparency in four key areas can go a long way to repairing the damage a negative industry opinion might be doing to a brand.
New data from Gallup shows which industries enjoy a favorable perception among US consumers, and which fall short. Restaurants, computers, farmers and retailers all find themselves among the top performers, but it is the list of industries that find themselves sub-par in the view of most Americans that may need to work harder to improve public opinion.
Industries that suffer from poor consumer perceptions in Gallup's 2014 report include: Movies, TV and radio, banking, airlines, pharmaceuticals, advertising and PR, electric and gas utilities, healthcare, the legal field, the oil and gas industry and, coming in as the most negatively-viewed industry, the US federal government.
While businesses that find themselves in favorably-viewed industries may need to do little more than give consumers reasons to choose them over competitors, their counterparts in poorly-viewed industries have a much tougher marketing challenge.
How can you overcome negative perceptions that your business may not even deserve? Small business marketing expert Elizabeth Kraus says there are four key areas where transparency can help improve people's perceptions about a brand.
Be Transparent When it Comes to Specific Consumer Concerns
Negative industry perceptions do not arise out of nothing, and often can be attributed back to improper, dishonest or even illegal actions of a very small minority of industry players; sometimes even just one or two. If an organization needs to overcome a general negative opinion based on the actions of a separate entity, the best thing to do might be to address the topic, head on, and clearly communicate their stance.
Be Transparent When it Comes to Customer Transactions
If an organization wants to build customer trust and overcome negative associations with the industry they are in; it needs to deliver on all of the promises it makes to its customers. A business can set customer expectations ahead of time through its marketing campaigns by telling people what they can expect from the customer experience.
When a customer knows what to expect ahead of time, and the organization delivers, this helps build trust. It also lets customers to know what to expect the next time as well as what they can expect others to experience, should they decide to recommend the business to their friends, family, colleagues or leave positive reviews on Yelp, Google+ business listing or social networks.
Provide a Transparent Customer Experience
Transparency in the customer experience means that a business will be prepared to answer any questions the customer might have and provide documentation about their policies, procedures, guarantees, warranties, service agreements – all of which can help give peace of mind to a buyer who has concerns or questions.
Businesses in industries with poor reputations may need to do more hand-holding of customers during the buying cycle, and should be cautioned against rushing people to a buying decision while they still have unanswered questions or doubts.
Be Transparent When it Comes to Company Values
An organization may be judged as much by the company it keeps, the causes is supports, the charitable work it facilitates and the public figures with which it is associated as it does by its own performance. Consumers will be able to quickly differentiate organizations that are worth considering from those that are not based on the values it demonstrates outside of the course of doing business.
***
Small business marketing expert Elizabeth Kraus is the marketing manager of DB Squared. Founded in 2009 and headquartered in Seattle, Washington, DB Squared is a wholly-owned subsidiary of a 30 year old private consumer finance company specializing in business cash advance financing and receivables financing (or invoice factoring). For more information, visit DBSquaredInc.com.