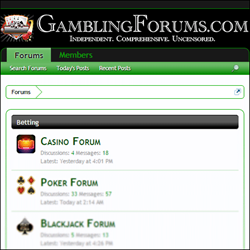 This much top brass brain power concentrated in one gambling community is unprecedented and ensures a solid and credible foundation for a unique, rewarding, and long-term community.
Las Vegas, Nevada (PRWEB) February 04, 2015
For the first time in the history of gambling, the most experienced minds in the world across the entire gambling spectrum have joined together to build an exclusive best-in-class gambling community at GamblingForums.com.
The Founding Members include:

Poker Hall of Famers,
World Series of Poker Champions,
Blackjack Hall of Famers,
World Series of Blackjack Champions,
Leaders of the original MIT Blackjack Team,
an Emeritus Professor of the Kelley School of Business and expert in Sports Mathematics with a Masters Degree from MIT and a PhD from Yale,
an Emeritus Professor of Lake Forest College and expert in Game Theory and Gambling Mathematics with a PhD from MIT,
a leading Professor from the Karlsruhe Institute of Technology in Germany and foremost expert in Lottery Statistics,
an expert Gaming Mathematician from Romania with a Masters Degree in Probability Theory and a PhD in Mathematical Models who specializes in the Psychology of Problem Gambling,
the leading authority on Gambling Law with a degree from Harvard Law School and Professorship at the University of Macau,
a Harvard-educated Computer Scientist, Gaming Consultant, Casino Mathematician, and Slot Machine expert who owns a portfolio of several Gambling-related Patents,
the world's foremost authority on Poker Strategy, Psychology, and Statistics, and noted Gambling authority, Industry Consultant and Spokesperson, respected Odds Maker on current events and politics, and author of 10 books,
the most experienced and well-known Poker Radio Host,
the best-selling and foremost Casino, Poker, Blackjack, Roulette, Craps, Baccarat, Slots, Video Poker, Keno, Bingo, Lottery, Horse Racing, and Sports Betting authors and coaches,
the authority on American Casinos with knowledge of 700 casinos in 38 states,
World-renowned Professional Handicappers,
Forex and Binary Options expert authors and coaches, and
the top members of the top Casino, Poker, Blackjack, Roulette, Craps, Baccarat, Slots, Video Poker, Keno, Bingo, Lottery, Horse Racing, and Sports Betting forums on the internet.
With Founding Members of this caliber, GamblingForums.com is set to become the most influential gambling forum online. This much top brass brain power concentrated in one gambling community is unprecedented and ensures a solid and credible foundation for a unique, rewarding, and long-term community.
To leverage the diverse group of elite minds that founded the community, GamblingForums.com offers forums across the entire gambling spectrum, including a Casino Forum, Poker Forum, Blackjack Forum, Roulette Forum, Craps Forum, Baccarat Forum, Slots Forum, Bingo Forum, Lottery Forum, Horse Racing Forum, Sports Betting Forum, Keno Forum, and Video Poker Forum all on one site with world-class experts for every field. In order to be as comprehensive as possible, the site goes one step further and has incorporated a Forex Forum and Binary Options Forum due to the synergies between financial trading and gambling profiles and their risk/reward characteristics. For any gambling field not covered, there is even a catch-all Miscellaneous Gambling Forum to ensure no aspect of gambling is left uncovered, with new Forums to be incorporated into the site in the future based on demand. With such a comprehensive array of gambling-related Forums, GamblingForums.com will serve as a one-stop-shop solution for all gambling-related discussions.
By bringing together the very best minds across all gambling fields and offering specific Forums for all fields on one site, GamblingForums.com will be able to exploit synergies across fields to enhance and expand upon all gambling-related knowledge within the industry for the benefit of all stakeholders. Oftentimes, an outsider in one field can shed new light on old challenges by throwing their own experiences, knowledge, and perspective in a different field into the mix, leading to new and exciting discoveries. This is not possible when there are separate and independent gambling discussion sites for different fields and is therefore one of the many unique advantages of GamblingForums.com.
As a result of the comprehensive nature of the site, gambling enthusiasts will no longer be inconvenienced with having to jump from one site to the next with multiple accounts, usernames, and passwords to discuss and learn about different gambling fields since all aspects of gambling can be discussed in one single site.
To further improve the user experience, GamblingForums.com utilizes best-in-class Forum software that is user-friendly, easy on the eyes, and engaging. Thanks to its responsive design, GamblingForums.com and all its Forums are mobile and tablet-friendly allowing all sections of the site to be accessed and used from anywhere in the world even while on the go.
The Administration and Moderation team behind GamblingForums.com are highly-experienced and have run several forums in different industries including the Travel, Dating, Mobile, and now Gambling industries. They will be leveraging their vast experience to ensure a respectful, open, and uncensored environment where anything and everything related to gambling can be discussed, dissected, and analyzed. Instead of pigeonholing discussions in pre-determined Sub-Forums, the Administration team has taken a novel approach with an open architecture where each individual Forum is a blank slate with Sub-Forums to be added organically in the future based on the discussions that take place. As the discussions begin to unfold and common themes start to emerge based on what the members choose to discuss, the site will be branching out new Sub-Forums and Forums to accommodate those themes and thus build the site out like a living, breathing organism based on the direction the community naturally takes it in. The Administration team will further empower members with the voice and influence to shape and carry the community forward as a living organism that adapts to all of its members' needs.
To ensure members remain active and committed to the community, the site is providing incentives to make their participation worth their time and effort by allowing them to indirectly promote their gambling-related products and services to the gambling community at large through their Forum Signatures that automatically appear below all of their posts. This creates a win-win proposition where the more a member participates, the more the community gains from their content and the more the individual member gains as they provide increasing exposure for their products and services to a highly-targeted audience. Spam is also virtually eliminated since members are not allowed to post commercial sites of any nature anywhere on the site except in their Forum Signatures which must maintain a professional standard to ensure they never detract from the discussions taking place. The link policy of GamblingForums.com is thus stricter than on most other forums, enabling the discussions to focus on genuine exchanges of knowledge instead of commercial products and services.
Although most of the site is viewable to the browsing public, there are private discussion sections that are only accessible to members. As yet another unique differentiator that sets it apart from the competition, membership to join and participate in GamblingForums.com is by invitation only to keep the quality of the members and discussions high. All members are allowed to invite their most trusted and reputable colleagues to join the community, and those they invite will also be able to invite their most trusted colleagues as well, and so on to build the site out organically. This invite-only system not only filters the membership, it also ensures a web of trust is built where every member is linked to every other member and no one can just walk in off the "internet street" and sign up.
Invitations to join the exclusive GamblingForums.com can also be requested at all the major gambling-related forums across the internet by posting a thread requesting an invitation since their Top Members are also Founding Members of GamblingForums.com. Those deemed worthy of membership will then be sent an invitation by an existing member.
Having covered all its bases with elite and highly-experienced founding members, comprehensive breadth and depth, a memorable brand, the most relevant and applicable domain name, an advanced and user-friendly forum software, mobile-compatibility, smart incentives, exclusive membership, strict anti-spam policies, and an experienced Admin team, GamblingForums.com is poised to become the #1 betting forum in the world.