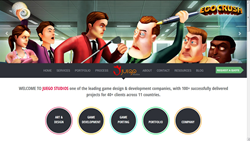 We take great pride in the fact that besides being one of the leading mobile game developers we are also considered a top art and design studio in this field.
Aventura, Florida (PRWEB) November 12, 2014
Juego Studios has launched an array of games recently: Ego Crush, Kids Submarine, Flappy Halloween and 2048 Shapes, developed using Unity 3D, HTML5 Game and Cocos2d-X technologies. The company has also launched a co-developed game, Future States, in collaboration with Future States Entertainment. All these games are available on iTunes. A game development company, Juego Studios is capable of transforming mere ideas into multiplayer cross platform games.
Talking about the game development services offered in a recent interview, one of the marketing executives of Juego Studios commented, "We take great pride in the fact that besides being one of the leading mobile game developers we are also considered a top art and design studio in this field. Endless brainstorming sessions are followed by the inception of a great gaming concept so that we can develop a profitable mobile game. Our teams of game developers, design architects and developers work day and night to breathe life into the vague ideas of clients. After creating the storyline, we invent characters, props and levels to make the games interesting. There is no dearth of options for the modern gamers and they have a very short attention span. We test the designs, graphics, audio and other elements at every level of the production procedure to make sure that the gamers are not just satisfied but also hooked to the different levels of our games."
Juego Studios believes that good graphics and sound effects alone cannot make a game enduring or popular. The team incorporates strong, east-to-relate with characters and fluid storyline to make each of the games stand out from the crowd. None of its contemporaries can come close to the invincible reputation it has earned by creating flexible and entertaining gaming apps for Android phones. It uses Cocos2D, Cocos2D-X and Unity3D technologies for making superior games for new age smartphone users.
"Rollo and the Lost Monsters is one of the most appreciated games that we have launched recently and it has got 110 levels. The complexity of the game increases with each level up and the protagonist has to move through seven stunning worlds. To solve the puzzles in the game, users have to take help of basic principles of mechanical physics. Open and extensive communication, flexibility and scalability of projects that we create have made us credible among Indian clients," the marketing executive remarked further.
Consistent and stringent quality check is the backbone of Juego Studios' game development procedure. It is in talks with an American professional body-builder who has won the Mr. Olympia title eight times straight for creating a brand new game. It is also planning to launch a game with multiplayer feature in several platforms like iOS, Android, PC and Mac. It is being hailed as the best game design companies.
About Juego Studios:
Juego Studios has achieved great success within a very short span of time by the sheer power of competency, perseverance and intelligence. It offers excellent game developing services on different platforms like Windows, Android and iOS. It utilizes latest technologies like Unity3D to give exceptional gaming experience to customers.
Contact Information:
Juego studios
Bangalore
Vinay Arcade, No.50
2nd Floor K H Road
Bangalore 560 027
India
Miami
1000 ISLAND BLVD
#1806, Aventura
Florida 33160
United States
London
Berkeley Square House
Berkeley Square
W1J 6BD London
United Kingdom
Ph No India +91 80 65653369
Ph. No US +1 305 332 8696
Ph. No UK +44 20 3286 1649
Mail: info(at)juegostudio(dot)com
Web: http://www.juegostudio.com/
###