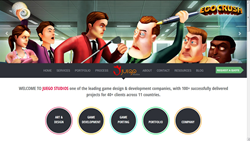 Having successfully completed 100 plus projects for clients spread across 11 countries of the globe, we stand tall in our domain.
(PRWEB) March 10, 2015
With ISO 9001:2008 quality certification, Juego Studios is held in high esteem when it comes to providing expert, efficient and competitively priced game designing and development services to its clients spread far and wide. Established in 2011, the company has considerable knowledge and experience to develop games for cross platforms that include Windows phones, Mac, PC, Android, iOS, online and Facebook. Juego Studios' creativity, innovation, development expertise, industry exposure and ability to develop cross platform games with a difference enables it to enjoy globally acknowledged reputation.
One of the senior executives working with the game development company sated in a recent interview, "Having successfully completed 100 plus projects for clients spread across 11 countries of the globe, we stand tall in our domain. We understand clients' ideas, their requirements, target audience and do our level best to help them achieve their goals in the shortest possible time and in the best ways possible. With our strong hold on programming languages that includes C, C++, Java, C#, JavaScript, LAMP etc., we are capable of designing games for any platform of client's choice."
Juego Studios excels in creative, technical, innovation and all other aspects of gaming to develop visually appealing, technologically advanced games and mobile applications. It understands the nuances to develop games using cross platform support game engines like Cocos2D-X, Corona, Unity 3D, etc., efficiently and effectively. Further, Juego Studios also knows how to use graphic design, UX/UI design, animations, art, 3D modeling, video trailers and many more, efficiently and effectively to give edge to cross platform games it develops.
Talking about the PC game development services, the executive further said, "Despite the fact that market is flooded with high end Smartphones, tablets and other gadgets offering that exhilarating gaming experience, playing games on the desktop is entirely a different experience altogether. Understanding this thing, a huge section of gaming professionals at our studio remain busy developing exciting, entertaining and engaging desktop games."
Juego Studios also knows how to utilize the ultimate solutions that Unity 3D engine provides in the form of video game development, architectural visualization and interactive media installations in cross platform support game development environment. By doing so, the gaming company has always impressed its clients by developing rich and interactive 3D and 2D games. Therefore, there is every reason for Juego Studios to top the list of companies using Unity3d engine for game development.
About Juego Studios
Established in 2011, Bangalore, India based Juego Studios is one of the leading game designing and developing companies. The company has one sales office located in Miami and another in London. Juego Studios boasts to have so far successfully completed more than 100 plus projects to utter customer satisfaction spread across eleven countries of the world. The offshore game designing and development company has considerable expertise in developing games for cross platforms that includes, iOS, Android, PC, Mac, Windows Phones, online and Facebook. With globally acknowledged reputation in innovation and skills, Juego Studios sticks to client's specifications and develops visually appealing, technologically advanced games and mobile applications. Its state of the art game developing services, industry exposure, creativity and skills to create games for cross platforms with a difference, Juego Studios never fails to impress its clients. Therefore, it stands as one of the best companies in India for developing PC games. It is one of the few companies in India that use Unity platform for game development
.
Contact Details:
Juego Studios
Vinay Arcade, No.50
2nd Floor KH Road
Bangalore 560027
India
+91 80 65653369
info(at)jueogostudio(dot)com
Web: http://www.juegostudio.com/