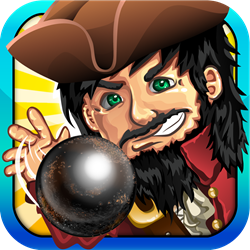 Santa Monica, CA (PRWEB) December 03, 2013
Applied Imagination is excited to announce the release of Yo Ho Throw, a fun and addictive pirate themed "swipe and throw" game. Sail the 7 scenes, including 5 with animation, that engage players as they go from a deserted island to a treasure cave, and everywhere in between. Players encounter cool characters and vibrant art along the way.
With 12 different objects to throw in scenes with varying degrees of difficulty, Yo Ho Throw is hours of fun for players of all ages. Earn over 50 achievements, and compete for the top spot on the leaderboards. For an alternative game mode, take it up a notch in the Zombie Challenge where players score as many as they can before time runs out!
For players who like pirates, and like to throw stuff, Yo Ho Throw is now available for free on iOS and Android on the App Store and Google Play.
App Store: http://appstore.com/YoHoThrow
Google Play: http://android.YoHoThrow.com
About Applied Imagination:
Applied Imagination is an independent mobile game development company headquartered in Santa Monica, CA focusing on fun and exciting games for the iOS and Android platforms.