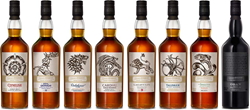 "For whiskey lovers and Game of Thrones fans, this limited commemorative collection is a must-have!" - said a spokesperson from Cask Cartel
CHEYENNE, Wyo. (PRWEB) January 15, 2019
Sold out pretty much everywhere in the United States, to declare that there is a demand for the official Games of Thrones Collection of single malt scotches would be an extreme understatement. The good news is there's still time as Cask Cartel has all eight Game of Thrones single malt scotches still available for the show's hardcore fans. Anyone who would like to enjoy the eighth and final season of The Game of Thrones, with their official scotch, or complete their personal collection needs to act fast or end up very sadly disappointed.
"Cask Cartel provides many very popular and hard-to-obtain limited edition and allocated items within its marketplace but the excitement around the Game of Thrones Collection has been absolutely insane," commented a spokesperson from Cask Cartel. "We love the show as much as anyone, but the attention towards single malt scotches has been far beyond what we could have imaged and it's been an absolute pleasure to provide so many consumers access to this limited edition collection series."
The Game of Thrones Collection features eight special single malt scotches, all receiving spectacular reviews. The prestigious collection includes:

GoT and Scotch lovers can purchase these highly-collectible bottles individually, or they can purchase the entire 8-bottles collection at Cask Cartel
The Cask Cartel has seen orders from as far as Australia and some even paying $250 for 2-day air shipping to Hawaii to arrive before Christmas. All-in-all its safe to say that the Cask Cartel has sold and fulfilled more online Game of Throne Scotches than anyone else in the world to date. The most popular with consumers or fans has been the The Night's Watch Oban Reserve, which comes in a very cool all-black bottle, and the House of Tyrell Clynelish. Those two sold out the quickest due to limited allocations and shortages from the distributors causing an absolute frenzy to the availability. House Baratheon Royal Lochnager comes in third as the most desired or demanded scotch from the collection.
This was by far one of The Cask Cartel's best-sellers for Christmas and they are pretty much the Select is left where this collection is even still available. Those who are on a budget still have a chance to pick one up for as low as $59! House Tully Singleton of Glendullan Select is available while supplies last.
For anyone trying to get his hands on these before the Final Season Premier, Cask Cartel is pretty much the last place where they can be found. Visit http://www.caskcartel.com while supplies last.
About Cask Castel
Cask Cartel was founded in 2014 and brought online in 2018. It is a company that comprises a team with over 4 decades of experience in the alcohol beverage industry. Cask Cartel has extensive relationships with distilleries and master distilleries across the US and the rest of the world. The company has developed an E-Premise Marketplace that's transforming the way alcohol is shopped, sold and shared online by combining the widest range of selection of allocated items and limited releases.