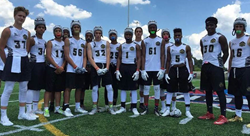 We couldn't be more excited to launch this national network of non-contact skills football camps in 2017
San Rafael, CA (PRWEB) December 20, 2016
US Sports Camps and Gamebreaker Softshell Helmets are equally dedicated to creating a safe and fun environment for athletes to improve their skills at great camps.
The Gamebreaker Non-Contact Football Skills Camps are devoted to protecting youth in sports and offer athletes the opportunity to play the sport they love while reducing the risk of head injuries and concussions. These non-contact skills camps will be taught by top coaches from every level at quality facilities around the country. With over 42 years as the leader in the sports camps industry, US Sports Camps families and athletes can expect a first class experience that promotes the lifelong enjoyment of athletics. As part of the camp program, every camper is given a Gamebreaker Softshell Helmet as part of their camper package.
"We couldn't be more excited to launch this national network of non-contact skills football camps in 2017. We have been in the football camp business for nearly two decades and understand the importance of providing football skills instruction in a fun and safe environment. Gamebreaker Helmets is going to help us achieve our goal by not only providing quality protective headgear but also through injury prevention and education." states Mike de Surville, Senior Vice President of US Sports Camps.
For more information or to register, please visit http://www.ussportscamps.com/football or call 1-800-645-3226
About US Sports Camps
US Sports Camps (USSC), headquartered in San Rafael, California, is America's largest sports camp network and the licensed operator of NIKE Sports Camps. The company has offered summer camps since 1975 with the same mission that defines it today: to shape a lifelong enjoyment of athletics through high quality sports education and skill enhancement.