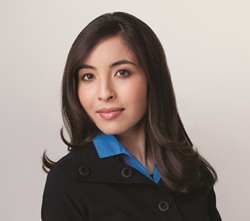 Bismarck, ND (PRWEB) August 05, 2014
Journalist Roxana Saberi will host the state's first Game Changer Series event on October 9, 2104, in Fargo, North Dakota. Saberi, who grew up in Fargo, moved to Iran in 2003 to work as the Iran correspondent for the U.S.-based Feature Story News. She filed reports for organizations such as NPR, BBC, ABC Radio and Fox News and was working on a book about Iran when she was arrested on January 31, 2009. Saberi was later sentenced to eight years in prison on a charge of espionage, which was later determined to be patently false. She recounts her ordeal in the book Between Two Worlds: My Life and Captivity in Iran.
Building on critical themes in the book, the event is entitled, Between Two Worlds: America and the Middle East, and focuses on the political unrest that continues to take violent form in many countries of the Middle East as everyday people fight for the freedom and justice many Americans take for granted. The outcomes of these conflicts will forever alter the economic, political, and social landscape of the region and force America to renegotiate our relationship with this part of the world as the pace of globalization accelerates.
Established by the North Dakota Humanities Council, the Game Changer Series is an annual event that focuses on a major event or idea that is significantly changing the face of our world and invites people close to the action to share their stories. It is an once-in-a-lifetime chance to meet people living deeply meaningful lives committed to change and innovation for a better, more prosperous world.
"We have gathered an extraordinary group of men and women journeying between America and the Middle East in the roles of journalist, marine, political exile, children's book author, immigrant, Islamic convert, poet, human rights advocate, comic book writer and more," says NDHC executive director Brenna Daugherty Gerhardt. "Their stories of courage and compassion amid war and conflict will bring home the reality half a world away."
To purchase tickets or learn more about the event visit, http://www.gamechangernd.com.
Between Two Worlds: America and the Middle East
October 9, 2014 – Fargo Theatre
CONVERSATION HOST:
Roxana Saberi, An American Journalist Taken Hostage in Iran
FEATURING:
Josh Rushing, Journalist and Marine Corps Veteran of the Iraq War
G. Willow Wilson, The Voice Behind the First Female Muslim Superhero
Tamim Ansary, A Children's Book Writer from Afghanistan Transformed by 9/11
Roya Hakakian, A Political Exile Fighting for Human Rights in Iran
Lahab Assef Al-Jundi, The Son of an Acclaimed Syrian Activist Finding His Own Legacy
Naomi Shihab Nye, A Wandering Poet Telling Palestine's Hidden Stories