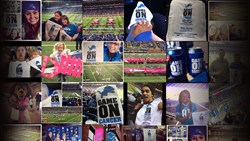 Detroit, MI (PRWEB) October 24, 2013
This unique and unprecedented partnership effort will seek to raise $15 million dollars during its three-year campaign to help further lifesaving cancer research for the Josephine Ford Cancer Institute. Cancer is scary; it has an aggressive offense, and needs an unstoppable defense to defeat it.
To help activate the engagement of Lion's fans for this campaign, DBA featured legendary former Detroit Lion (Wide Receiver), Herman Moore as the coach against "Team Cancer" in an epic battle on the gridiron.
In the beginning of the story, Team Cancer has the ball, but the Lions deliver tackle after tackle until they cause the fumble that becomes the turning point in the fight against cancer. Throughout the story, our voice is aggressive toward Team Cancer - trash talking for intimidation. It's time to let cancer know that it's #GameOnCancer!
Click here to view the 30-second commercial: http://www.adforum.com/creative-work/ad/player/34491151/
DBA launched the campaign during the Lion's October Cancer Awareness home game against the Cincinnati Bengals on Sunday, October 20, 2013, with an in-stadium experience and media support including: broadcast television commercials, outdoor boards, radio, print, digital ads and social media.
It was an experience like no other. Cancer survivors helped fill the stadium seats wearing pink cancer awareness t-shirts provided by Henry Ford Health System, while twirling "Game on Cancer – Wave Cancer Goodbye" hand towels. This was a crowd filled with emotion, empathy and support, but with the aggression and stamina to continue the "fight!"
It's never too late, you can still team up with the Detroit Lions and the Josephine Ford Cancer Institute to tackle cancer once and for all by visiting: http://www.gameoncancer.com.
DBA Worldwide is a marketing and advertising agency that specializes in community-driven brands with a common desire to lead and improve the human condition.
DBA's mission is to create remark-worthy, branded experiences through storytelling and innovative media solutions; with a vision to reinvent advertising and build trustworthy brands that lead and change the world.
###