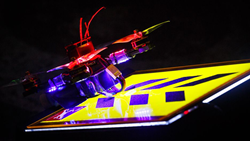 The Museum of Future Sports is a new concept in entertainment and education launching this summer in San Francisco showcasing esports, drone racing, virtual reality and immersive technology.
SAN FRANCISCO (PRWEB) May 15, 2019
TICKETED EVENTS: June 1st, 9th and 21st
STEAM DAY CAMP: July 8-12, 15-19, 22-26
at SVN West in San Francisco.
A new concept in entertainment, education and community is launching this summer: the Museum of Future Sports (MoFS) featuring a popup fundraiser event series. Showcasing the recent growth of technology-enabled sports and gaming, MoFS is home to an impressive variety of hands-on games, activities, professional competitions, tournaments, and STEAM education summer day camp.
At MoFS June fundraiser events, visitors can play multiple curated games and experiences, including arena-scale VR games, mixed-reality RC car racing, create and share social media videos in a virtual reality selfie booth, play a few games of robot soccer, learn to fly a drone, play retro & indie video games and experience the latest immersive technology demos.
Visitors can also relax and spectate as professional gamers compete on the esports main stage, keep up with CA's fastest drone pilots and RC race drivers on multiple indoor race tracks and speedways, watch virtual reality sculptors face-off in VR art battles, marvel at immersive art & experiences and listen to (and watch) mixed-reality musicians & DJ's using AI and the latest tech to spin beats.
In July, MoFS will transform the venue into a STEAM day camp for students aged 8-14, featuring play-based learning at the heart of its programs. MoFS curriculum leverages students' natural passion for technology and desire to play through hands-on drone racing, robot games, plus coding and game design. Through fun daily games, lessons and activities, students experience a wide assortment of creative and technical skills and learn how STEAM topics are integral to future success on the playing field as well as the workplace.
"It was important to build MoFS on a foundation of local community engagement. It's exciting to launch a new technology and entertainment venture in the San Francisco Bay Area" said Sherry Huss, Museum of Future Sports' Executive Director. "But it was critical to our entire team that we create value for the local community and address the tech literacy challenges facing so many students throughout the area."
Housed in a sprawling 100,000 sq. ft. former auto dealership in the heart of San Francisco, the spot was home of the original Fillmore West concert venue. The MoFS summer pop up is a collaboration with Non Plus Ultra, who currently manage the venue and have renamed it SVN West. The MoFS pop up takes advantage of the entire building, offering an unprecedented variety of entertainment activities under one roof, creating a one-of-a-kind destination for immersive family entertainment and hands-on STEAM education programs.
"I loved the idea of a summer pop up and we decided to go for it." said Jordan Langer, President of Non Plus Ultra, the venue activation firm for SVN West. "This space has been a part of the neighborhood for decades, and we really hope to maintain that connection moving forward. The Future Sports Museum is a great way to connect the space to the local community and keep the neighborhood vibrant and lively and family friendly"
The Museum of Future Sports event schedule at SVN West:
Saturday June 1, 8pm-1am (21+)
Sunday June 9, 11am-4pm (all ages)
Friday June 21, 8pm-1am (21+)
The Museum of Future Sports STEAM summer camp schedule at SVN West:
July 8-12, Mon-Fri, 10am-4pm
July 15-19, Mon-Fri, 10am-4pm
July 22-26, Mon-Fri, 10am-4pm
MoFS event site: http://www.MoFS.io
MoFS STEAM site: http://www.FutureSports.io
Tickets: https://www.tickettailor.com/events/mofs/
For additional information, or to gain media access, please contact:
Museum of Future Sports PR Contact:
Marque Cornblatt, CCO/CIO
q@MoFS.io
415.602-4138
Non Plus Ultra PR Contact:
Rachael Davison | Charles Zukow Associates
rachaeld@charleszukow.com
415.296.0677
About The Museum of Future Sports
The Museum of Future Sports (MoFS) is an immersive and interactive destination for technology, entertainment, sports & culture — a vibrant new member of the San Francisco cultural community that will engage the hearts and minds of neighbors and visitors alike. MoFS will encompass high-touch interactive activities, an esports venue, free-roam VR, mixed-reality games, STEAM education classrooms, a sport/tech innovation lab, immersive art and music. MoFS is a registered 501(c)(3) corporation committed to providing STEAM education & tech literacy to everyone.
About Non Plus Ultra
With almost a century of combined experience in the San Francisco event space, Non Plus Ultra boasts a reputation as one of the Bay Area's most celebrated venue activation firms. SVN West is conveniently located at the intersection of SF's two main thoroughfares, South Van Ness and Market. The open floor plan offers maximum versatility and includes Carousel and its adjacent rooftop, along with a spacious mezzanine and additional ground floor event space.