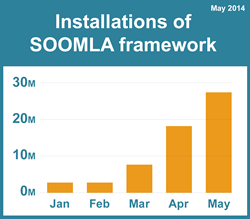 Games that are built with SOOMLA software have been installed over 20,000,000 times and this number will grow to 100M by the end of the year
Tel-Aviv, Israel (PRWEB) June 20, 2014
Today, SOOMLA, an open source framework for mobile game developers, has two reasons to celebrate. The framework that started as a small open source project recently reached 20M installs and is rapidly gaining more momentum as games with SOOMLA inside are reaching the top charts in the Apple and Google app stores.
Rapid growth of installs in 2014
==========================
On the company's recent growth, CEO, Yaniv Nizan says: "It's a great feeling to make a really great piece of software that solves a real problem. We are helping thousands of mobile app developers who are looking for ways to monetize. As of today, f2p games that are built with SOOMLA software have been installed over 20,000,000 times and this number will grow to 100M by the end of the year based on our current pipeline."To reach these numbers SOOMLA relied mainly on the natural appeal of being an open source mobile gaming platform, and as time went by, more and more free-to-play mobile game developers joined the community and told their friends about it. Suddenly, some of the games using SOOMLA became really big hits.
Innovation in mobile game development
=================================
SOOMLA's success is not just a coincidence. The company was able to identify a need in the mobile game development market for open-source software tools. "When we started, people were still unsure if the In-App Purchase model will succeed in mobile games. We made a bet that it would grow rapidly and it really paid off" says Yaniv. The first set of tools that the company launched was a framework for in-game economies that use IAP plugins. But what really drove their popularity was selecting the open source path. "The virtual economy component is such a core part of gaming software that it's hard to imagine developers trusting a black box for that. Opening our source code allowed us to gain trust and engage the community much more quickly."
Being open as a core value
======================
Another unique element that helped this gaming software company succeed is their taking an open approach to sharing pretty much everything that the company does. The company maintains a very active blog with daily posts about industry news, mobile game reviews and game design advice, but at the same time you can find stories there about startup fundraising challenges, management dilemmas and other things that most companies don't feel comfortable sharing. Yaniv explains the philosophy "Being transparent helped our users gain confidence in the company and at the same time increased discovery and awareness through word of mouth and virality".
At the Top of the Charts in App Stores
===============================
One of the games that helped SOOMLA gain momentum is "Make it Rain," created and published by Space Inch and developed by Plunge Interactive. The game was launched in April 1st and reached the top #1 position in the App Store charts during May. Yaniv Nizan further comments: "We are extremely excited about the success of Make it Rain. News of it being the most popular download in the App Store allows more developers to learn about the free open-source gaming tools that SOOMLA offers so they can accelerate their game projects."
About SOOMLA:SOOMLA Inc. is an open source gaming software company based in Tel-Aviv, Israel. Founded in 2012, SOOMLA's developed an open source framework for building virtual economies and in-app purchase stores in mobile games that already saved designers hundreds of development years. The community supported platform is offered for Unity, Cocos2d-x, iOS and Android.