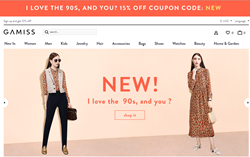 GAMISS Promotes 90's Fashion by Putting a Spin on the Trendiest Apparels from the Last Millennia
(PRWEB) August 20, 2016
GAMISS, a fashion store that has redefined the notion of what's cool and trendy, has put a raw spin on 90's fashion clothing to create their unique line of merchandise. Starting this week, consumers will be able to buy 90's fashion clothing of their choice at attractive rates. The designers stated that one can surely feel the quintessence of 90's fashion trends by flipping through the products put on display on the digital storefront.
The designer team of the e-commerce store has fully dedicated themselves towards recreating the 90's fashion statements, albeit with a focus on today's consumer groups who are found growingly obsessed with everything cool and trendy.
"We have taken cue from the predominant fashion trends from the last decade of the last millennia. The idea is to create something refreshingly new, yet inspiringly vintage. From super-stylish broken hole straight jeans for women to cool and trendy pure color jeans for women, from dark Faux Leather jackets to crop tops, from printed skirts to jumpsuits, and many more unique products that symbolize 1990's, our store gives a chance to everybody to don the vintage clothing. 90's is still very much alive and going. The initial consumer response and weekly sales figures point towards that", a designer enounced their creative aspirations and expectations in an articulate manner.
Besides stocking their inventory with a whole lot of 90's clothing, the owners are keen on improving their service quality in order to find inroads into different competitive retail markets around the world, and not just in the USA heartland. The company now puts high emphasis on quality control, training and development, research and supplier maintenance.
"It's important that we follow a very high supplier standard and we must mention here that we have been thoroughly selective about choosing our suppliers. Suppliers who have high defect history are not taken into consideration. Also, it's important that we do consistent quality check to retain our present consumers as well as to create new opportunities. Furthermore, we are also giving special training to our customer support team about the apparel sizes, as we have found out that size mismatch is main reason why most refund and return requests are raised", told a senior marketing executive.
About the Company
GAMISS is a top fashion store selling and promoting vintage clothing for women.
For more information, visit http://www.gamiss.com/
Email: support(at)gamiss(dot)com