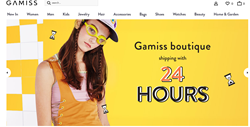 It Has Never Been Easier to Find The Latest Fashions With Gamiss.
Shenzhen, China (PRWEB) August 25, 2016
No retailer has Gamiss beat when it comes to trendsetting and contemporary fashion apparel and accessories. The company is able to assert itself at the top because of its cheap prices, high quality items, along with great customer support. Today Gamiss sales staff are proud to announce upgrades to the user experience with modifications to the homepage. The new homepage will have a boutique section that will house premium boutique fashion and a trends talk module which will spotlight on hot fashion. Both of these additions will benefit the user because they will no longer have to sieve through Gamiss to find the hottest brands.
The premium boutique section now listed on the Gamiss website is truly a celebration of the great designers on the website. Gamiss staff have worked diligently with current and up and coming designer brands to fill its boutique with the products people want. Custom arrangements have been made and Gamiss can assure customers that all products sold on the botique page will ship out in a record speed of 24 hours. This ensures that customers get their products faster.
For those who are still looking for the latest fashions Gamiss suggests checking out the new trends talk module. This section is for those looking to find out what the latest fashion trends are and the Gamiss products that meet the trend. All products recommended are of the highest quality and are similar in look to the expensive designer brands, where things are different is price. Gamiss sells all trend talk recommendations at below wholesale prices. Currently the trends talk module is focusing on pre-fall fashion which includes stripes. The benefit of using the trends talk module is the elimination of searching for fashion, customers can let Gamiss do all the hard work.
Customers who have any questions before or after sale are welcome to get in contact with Gamiss today. Customer service is available 24 hours a day, 7 days a week and can be found directly on the Gamiss website. Customer service staff are trained to solve any problem that may arise and can initiate any return or exchanges.
Related link: http://www.gamiss.com/
Email: support(at)gamiss.com