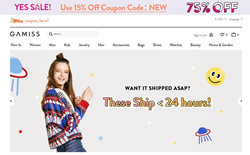 Priority direct mail along with new ship-out protocol to slash shipping times.
Shenzhen, China (PRWEB) September 29, 2016
When it comes to the latest fashion trends, Gamiss is the website to shop at. Gamiss has become a worldwide sensation over the years thanks to its focus on high quality products at affordable prices. The company works around the clock to secure the best manufacturing deals so the savings can be passed directly to customers. Customer satisfaction is the central focus of Gamiss and has led to all its success. After much feedback from customers about slow shipping, Gamiss has been working behind the scenes to refine its shipping efficacy. Today company executives are proud to announce the new Gamiss logistic options are live. Gamiss has not only added priority direct shipping, but made ship-out times much faster. This will reduce the wait time, while keeping prices low.
Standard shipping by Gamiss takes 7-25 days with processing, many customers have said that this is too long and that they need products much sooner. Gamiss has taken these comments seriously and the company is now proud to announce priority direct shipping. This new shipping method will cut down shipping to no longer than 12 days. This reduces the wait time significantly, but prices will still continue to be low. Priority direct shipping only costs a few dollars more than direct shipping, but is much cheaper than express shipping options. Customers looking to save will no longer have to worry that spending less on high quality items will take close to a month for them to arrive. The new priority direct mail options is available for multiple countries including Australia, Saudi Arabia, United Arab Emirates, Portugal, Canada, France, Germany, Italy, Spain, United Kingdom and United states. More regions will be added as time goes on and customers are encouraged to keep checking back for updates.
With packages expected to arrive within 12 days of order Gamiss is now altering its ship-out methods. Gamiss has worked directly with manufacturing plants to ensure that products ordered will be ready to ship in under 48 hours. This ensures that customers will have their products in the time frame advertised. Factories will be alerted immediately to get specific products ready for quality control test so they can be checked and shipped out promptly.
This is just the start for Gamiss, the company is taking customer feedback very seriously and is working to implement many new updates in the coming weeks and months. Customers are invited to keep checking back to see changes as they unfold.
Related link: http://www.gamiss.com/
Email:support(at)gamiss(dot)com