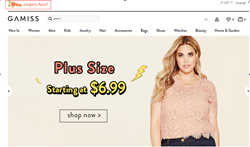 Customers to find the latest fall fashions at even cheaper prices now at Gamiss
Shenzhen, China (PRWEB) October 05, 2016
Gamiss is known for inspiring young women from the ages of 18 to 35 with the latest contemporary and trendy fashions. The company has built up a huge following over the course of the last few years, in part to its great model selling clothes at affordable prices, while keeping the quality extremely high. With Gamiss being a site for the youth, the company is always updating to keep up with the latest tech and non-tech demands that customers mention. With the fall season now in full swing, Gamiss executives are proud to announce the launch of the new fall wardrobe collection, along with new coupon codes for Facebook followers. The new fall collection will allow customers to dress for the season, while the new coupon codes will allow them to save even more money.
September is a busy time of the month - not only is it back-to-school season for most, it is also the start of the fall season. This creates an increased desire to buy a new wardrobe. Gamiss has been working hard for the last several months to update and bring the latest fall fashions in time for the start of the season. The new fall collection is now available with more products rolling out daily. The benefit of buying from Gamiss over other fashion e-commerce sites is that the company specializes in selling the latest fashions at affordable prices. Gamiss can do this because of its relationship with big manufacturing firms.
On top of the new fall fashions Gamiss is trying to give back more to community members with more coupons. Currently, the company is looking to build its Facebook community up. The benefit of having more Facebook likes for Gamiss is that the company can push its latest offers to one place for all customers to see. Customers in return will get a 10% coupon. The coupon for this is very visible and located at the top left banner. Just click the "Wow, coupon here!" button and click the like button from there. This is an easy way to get some instant savings.
Gamiss is always looking to improve the site, and these changes are just the beginning. In September alone, Gamiss has done the changes mentioned above, and even added a size converting function so customers can always pick the right size. With October now underway, the company is excited to release even more changes. Customers are asked to keep checking back for more updates!
Related link: http://www.gamiss.com/
Email: support(at)gamiss(dot)com