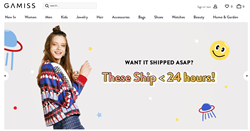 Priority Direct Mail to Cut Down on Shipping Speed While Keeping Prices Low
(PRWEB) September 16, 2016
Gamiss has shown time and time again that its number one goal is customer satisfaction. Since its inception Gamiss has looked at multiple avenues to keep prices low while keeping quality at a level similar to premium international brands. This has resulted in Gamiss becoming an industry leader in international online fashion. The fashion E-commerce site Gamiss is always looking to improve in customer relations and today executives are proud to announce priority direct shipping. With priority direct shipping customers will now be able to get products at much faster rates while being able to keep shipping prices to snail mail lows.
Customer feedback is something that Gamiss takes very seriously. Many customers from international markets have asked Gamiss why shipping can take so long and why faster options take longer. The fact is that logistics can be very expensive and Gamiss had done the best with what it had, however over the last several months the company has taken customer feedback to heart and given its logistics a complete overhaul. Gamiss is now ready to introduce priority direct shipping to the world. The benefit of priority direct shipping is that it offers express delivery speeds while keeping prices similar to snail mail. Customers who are already buying cheap no longer have to break the bank to get it fast.
Having products ship out fast requires Gamiss to also be on top of shipping out speeds. Gamiss is working to increase speeds by working directly with manufacturers. Gamiss is doing its best effort to ship products out within 24 hours of order. To make this a reality Gamiss has worked with manufacturers to ensure that there is enough of each product in stock at a given time. If stock is running low Gamiss will suspend sales until it is back, this will ensure that no customer is left waiting for prolonged periods of time.
Gamiss is always looking to grow as a company and will continue to tweak and modify the logistic options so customers can be better served. Going forward customers are more than welcome to get in contact with Gamiss staff through the online contact us page and leave their very own feedback. All feedback used will go towards bettering the site for every customer.
Related link: http://www.gamiss.com/
Email:support(at)gamiss(dot)com