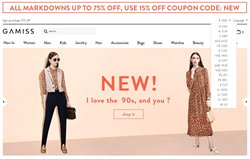 It has never been more secure to make payments on Gamiss
Shenzhen, China (PRWEB) September 09, 2016
Modern day trendsetters looking for contemporary fashion use Gamiss. The site is universally known as an industry leader in fashion e-commerce that uses a model based on cheap prices and high quality items to attract customers. The end game for Gamiss isn't to produce only high quality products, it is to make the latest fashions affordable to the masses. This has built a large fandom around Gamiss and the company is skyrocketing in success. With cyber security being a real issue in today's world, Gamiss engineers have updated the payment options. These new options are at current industry standards and will help insure no private info is lost.
With online shopping taking off, customers are now more prone to cyber-attacks where hackers are looking to steal personal data in the form of card numbers. Gamiss respects customer privacy and security and the engineering team has worked diligently to bring new protection and options to the horizon.
The first thing Gamiss engineers have done to make payments more secure is to introduce a Wordplay payment method. Wordplay is like PayPal and accepts 5 major credit cards: Visa, Master, Maestro, AMEX, and Diners. Like PayPal Wordplay has multiple security checkpoints to ensure that no data is lost. Wordplay accepts the following currencies: USD, EUR, GBP, AUD, CAD, CHF, HKD, CNY, RUB, NZD, JPY, BRL, CLP, NOK, DKK, SEK, and ILS. This current list of 17 is just the beginning and as time passes more currencies will be taken by Gamiss. The end goal is to have every country covered so customers from across the globe can use their home currency without dealing with exchange rates.
PayPal is often considered the strongest form of secure payment on the Internet. Gamiss has updated their PayPal processing system to the latest version. This is more secure and fills any security bugs previously found. On top of security the newly updated PayPal feature accepts 18 different currencies. The benefit of using PayPal is that customers using currencies outside of the U.S dollar will only be subjected to a 0.5% fee at checkout for conversion.
Customer satisfaction is the most important after any changes that come to Gamiss. Customers are encouraged to get in contact with the company and to leave constructive criticism and comments. All info given will be used to better the payment method going forward.
Related link: http://www.gamiss.com/
Email: support(at)gamiss(dot)com