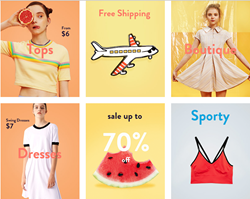 Gamiss Rolls Out New Homepage Along with Pre-Fall Sale
Shenzhen China (PRWEB) August 11, 2016
Gamiss is a fashion e-commerce giant known for trendsetting and contemporary fashion. Unlike other competitors Gamiss focuses on providing affordable products without sacrificing quality. Gamiss carries a huge variety of products including clothing, jewelry, bags, shoes, hair products, watches, home use products, and more. Gamiss understands that such diversity in products can leave customers overwhelmed in searching, to mediate the company is constantly looking to optimize the website. Today Gamiss is proud to announce the re-launch of the homepage. The new homepage is more beautiful than ever and extremely easy to use.
The new homepage has a similar navigation bar at the top that allows customers to choose categories to shop in, moving further down there is a large banner that rotates with all the deals. What is new is the middle and main chunk of the homepage. To make things as accessible and understandable as possible Gamiss has introduced 6 interactive banners in a block. The hottest products, latest deals, and cheapest shipping options with be listed here. Hot products and promotions at Gamiss are constantly changing so Gamiss is a great place to get a general overview on what is going on and save more money.
Gamiss wants to be more than just another fashion e-commerce site, the company strives to give customers the best looks. To help visualize Gamiss products the front page now has a "#Gamiss Style" Section. Located at the bottom of the page are boxes that direct to Gamiss social media pages. These pages include Facebook, Instagram, and Pinterest. All these social media platforms will be used to highlight different products. Many pictures posted are impartial user submissions. Customers can get a real sense of what products look like.
The first major sale to go along with the front page redesign is the pre-Fall Sale. This is a time for customers to start stocking up on the latest fashions for Fall without rushing later. Products are discounted up to 50% off and start as low as $7 USD. The products offered are just a start to the fall fashion inventory. As the season approaches and is underway Gamiss will be adding more of the most in demand fashions. Designers are already working with manufacturers to bring the latest fashions at the most affordable prices.
Related link: http://www.gamiss.com/
Email: support(at)gamiss(dot)com