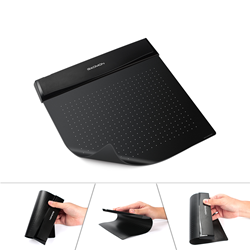 GAOMON is proud to present S56K international giveaway which is basically being launched to promote product trials, market research, and consumer feedback. We welcome all media coverage, designers and OSU! players to review our S56k!
(PRWEB) October 27, 2016
GAOMON TECHNOLOGY CORPORATION is a Chinese high-tech enterprise that is known for independently researching and developing core technology such as animation products and handwritten input digitizer products. Thanks to a successful line of graphics tablet products, GAOMON has been a renowned developer in the Chinese local market since 2011.
However, GAOMON is soon planning to expand to other markets. This is mostly indicated by the fact that the company is now entering the international market with the launch of GAOMON S56K. Manufactured by the company on its own, this product will be the world's leading flexible and portable graphic pen tablet.
GAOMON S56K is the most recommended option for CG beginner designers. Thanks to its small and compact size, only 1.4mm thick, users can easily carry the product with them even when they are in flight or on the road. S56K is also the high recommended for players of OSU, Draw Something. More advantage of features includes 2048 Levels Pressure Sensitivity, 10mm Reading Height and 4000 LPI Resolution, etc. Users can find details of S56K on their US amazon store: http://amzn.to/2cFv4iS
Ms. Chunping Ye, CEO of GAOMON, unveiled another major news during this interview. She stated, "GAOMON is proud to present an international giveaway campaign for S56K." Upon further assessment, it was revealed that the giveaway will offer 10 pieces of S56K for absolutely free, NO PURCHASE NECESSARY. The giveaway starts on Nov. 01, 2016 and ends on Nov. 30, 2016. The winner will be contacted via email and announced on the official GAOMO Facebook page (http://bit.ly/2chanPw) on Nov.30, 2016. Find the GAOMON S56K giveaway page here: http://www.gaomon.net/S56Kgiveaway
The international giveaway campaign is basically being launched to promote product trials, market research, and consumer feedback. Apart from the announcement of the giveaway, one more groundbreaking update has been announced by the company and that is the GAOMON 's YouTube Live Channel. "We just create our Live channel on Youtube for educating users about navigation using S56K as well as our upcoming release. We welcome all media coverage & designers to review our S56k!" says Ms. Chunping Ye. Users can find GAOMON Yotube on this link: http://bit.ly/2cnAnoX