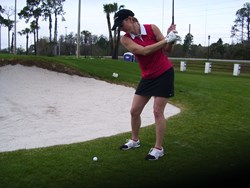 Black Magic's advanced engineering with golf equipment for the short game offers a top of the line gap wedge that can have you shooting lower scores in no time.
Nationwide (PRWEB) December 25, 2013
Ideally 4 degrees is a good space to have between your clubs and on full shots that should amount to 10 to 12 yards. The traditional distance between degrees with a sand wedge and a pitching wedge is 8 degrees. This had golfers trying to swing too hard with one wedge or choking down on another to hit those in between distances. If you are shopping for a gap wedge one needs to know what your current wedges are because wedges vary with today standards. Most gap wedges run between 50 and 54 degrees and many pitching wedges are 46 degrees.
Most golfers know the wedges in their bag need to be able to handle more than just full shots because there will be many greens missed in regulation that will have a situation and distance that will need more finesse then power. This is where the Black Magic gap wedge fills the job brilliantly.
There are a number of things that make the Black Magic Wedges very unique and why it gets great gap wedge reviews from many great teaching professionals like Dean Reinmuth. This gap wedge has a low center of gravity which helps get the ball in the air very fast. The hosel has been removed off of the flat iron face. This allows players to have a complete view of the face when making a particular type of shot. If a player needs a shot with great back spin all that is necessary is to make solid contact to the back of the ball on the way down to the turf keeping the face square past contact or if a soft pitch shot is needed where the ball will hit the green and roll to the hole just let the large hybrid sole plate slide over the turf and under the ball with a smooth follow through. Flop shots with very fast lift in a short distance are easy to do for even high handicap players by just laying the face open and cut across the ball with a nice follow through. The best part of the Black Magic Wedges is that all of these shots can be done without the fear of hitting that dreaded shank.
The Black Magic gap wedge rates very attractive with its affordable pricing and Conforming to USGA Rules. For more information regarding these wedges visit http://www.blackmagicwedge.com.
About:
Blade Runner Golf, Inc. is a company devoted to the notion that a golfer's short game can make all the difference in his or her final score—but you can take your short game to the next level only if you have the right equipment. Black Magic's hybrid wedges Conform to USGA rules, but also helps golf enthusiasts find new precision and power as they make their way onto the putting green and they can be accessed on the web at: http://www.blackmagicwedge.com.
Contact:
Black Magic Wedge
10850 Dover Street
Suite 500
Westminster, CO 80021
Toll Free 877-799-6099