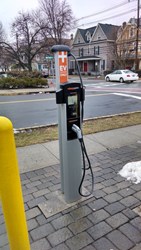 Hillside, NJ (PRWEB) February 12, 2014
Tom Moloughney, restaurant owner and EV evangelist, has recently acquired his second ChargePoint ® EV car charging unit from New Jersey Door Works.
As the owner of Nauna's Bella Casa in Montclair, NJ, one expects Moloughney to provide his customers with a superior dining experience. Something which may not be so expected is that he also provides his customers with free electric vehicle (EV) car charging. Moloughney has a passion for EV's and is always willing to share his extensive knowledge of EV car ownership and operation.
"I first installed a 2000 series ChargePoint unit here in June 2012 and this unit, which I use on a daily basis has performed fabulously for me," said Moloughney. "The unit I just installed is the third generation of ChargePoint stations, a CT4000 series with new features and functions that make the EV charging experience even more pleasurable and informative for both me as the EV unit operator and EV charger users as well."
Moloughney chose New Jersey Door Works to install the new ChargePoint unit at his restaurant. New Jersey Door Works recently begin distributing, selling and installing ChargePoint units in New Jersey.
"It's great to know that ChargePoint now has a company dedicated to supporting their products here in New Jersey, right in my backyard, he said. "I know that ChargePoint places a very high premium on insuring that their units are up and running properly, so I had New Jersey Door Works do the installation of the unit, which was hassle-free and professional."
New Jersey Door Works Vice President Glenn Serillo said, "We are happy to be representing the market leader, ChargePoint in the area and proud to be associated with forward thinkers and EV proponents such as Mr. Moloughney. We take pride in not only installing the units in a professional manner but insuring that the station owners have us at their side to insure that the 'uptime' of the units is the best in the industry."
About the Company:
For more than 25 years, New Jersey Door Works (NJDW) has been serving the commercial, industrial and residential access control markets in New Jersey and New York. With thousands of customers throughout the region, NJDW has grown to provide a wide range of garage door, general contracting and electrical services. Most recently, NJDW has been appointed as a distributor and Reseller of ChargePoint ® brand EV car charging units. Their customers range from the average homeowner to small mom-and-pop shops to multinational Fortune 500 companies. Their capabilities are equally as varied - they gladly accept jobs of all sizes and difficulty. From simple, routine service calls to large, complex industrial installations that only a handful of companies nationwide can handle, they treat every job as a priority - safely, professionally and on time. Call today for prompt, expert, knowledgeable service and a range of products and services designed to provide optimal value to homes or businesses. For information on New Jersey Door Works, please visit their website.