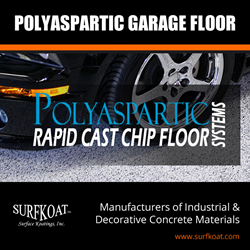 Polyaspartic Garage Floor using PolyKoat GL & Kolour Koat Polypack equals a Garage Floor that is sure to Impress.
Nashville, Tennessee (PRWEB) March 20, 2014
SURFKOAT (Surface Koatings, Inc.) announces RapidCast™ a Concrete Coating Polyaspartic Garage Floor Coatings Chip Floor System with unmatched durability. The Polyaspartic Garage Floor Coatings System is a product that is the fast and easy way to create a beautiful, rugged concrete floor that is sure to impress.
SURFKOAT offers a concrete coatings product designed for garage floors. This product specifically known as the Polyaspartic Coatings Rapid Cast™ Chip Floor System which comes with a choice of chip textures including: 1/4 inch chips - 1/16 inch chips offers a variety of colors and floor coating bases.
Because PolyKoat GL 80 is a high solids, low viscosity coating with superior bond strength, this garage floor coatings system is ideal for residential garage floors as well as industrial warehouse and office floors. Using the Polyaspartic Rapid Cast™ Chip System in combination with the Kolour Koat Polypack line leaves the color combination choices wide open.
PolyKoat GL is available in 70, 80, & 100. which are all available in slow cure formulas. PolyKoat GL 80 is typically a standard for the Rapid Cast™ Chip System.
For more information on Polyaspartic Garage Floor processes and SURFKOAT's Polyaspartic Garage Floor Coatings Rapid Cast™ System, contact Surface Koatings today. Be sure to download the FREE Polyaspartic Rapid Cast™ Chip System Brochure from their website.
SURFKOAT Polyaspartic Rapid Cast™ Chip System related search phrases:

Garage Floor Coatings
Garage Floor Coating
Garage Floor Epoxy
Polyaspartic Garage Floor Coatings
SURFKOAT - Manufacturing of Concrete Floor Coating Systems
Surface Koatings, Inc. is an independently owned and operated professional concrete coatings manufacturing company that was formed in 2000 located in the Nashville TN area.
Surface Koatings, Inc. also offers a very attractive private labeling program, custom formulations and blends, and competitive toll blending operations. Learn more about their experience and dedication to customer satisfaction and how they vend their concrete coating products.
Surface Koatings powered by: Website Design in Nashville - GoHooper.com