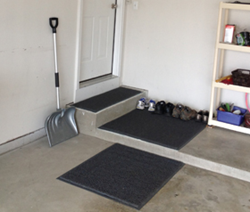 With a custom garage mat design for my floor, landing and step - problem solved
Cleveland, Ohio (PRWEB) February 28, 2015
Martinson-Nicholls new VISPA Garage Mats are designed to handle all types of dirt, especially that bleak, grim garage dirt laden with road salt brought in by car tires during cold winter months.
Company president, Dan Ruminski, became frustrated with tracking in the mix of black slush, grease and salt from the garage into the house, and decided a better matting system was required. The company came up with two versions of a spaghetti matting to trap the dirty mix in the garage rather than tracking it indoors.
These VISPA mats are offered in five colors, two thicknesses, and in popular stock sizes or rolls to allow custom sizes up to 60 feet long.
One of the new garage mats is 3/8" thick with a color-coordinated vinyl back that holds all moisture and dirt. The thicker, 1/2" version is unbacked, and allows moisture to pass through the mat.
According to Jane Wallace, Cleveland, Ohio, "VISPA solved my problems. I have tried everything to limit that ugly winter dirt from coming into my home. No matter which mats I tried, garage dirt still came into my house and scratched my beautiful hardwood floors. With a custom garage mat design for my floor, landing and step - problem solved. Sometimes it is the little things in life."
Both garage mats are easily cleaned by hosing them off, and they both dry very quickly. Their textured, vinyl loop surface is slip-resistant and very long-lasting. They do an excellent job of scraping soil, slush and salt from boots and shoes.
Martinson-Nicholls provides either the backed or unbacked garage matting in standard 3 ft. x 5 ft. or 4 ft. x 6 ft. sizes in five standard colors. Additionally, the company can also provide them in custom sizes to fit any steps or landings.
About Martinson-Nicholls
Martinson-Nicholls has established itself as a leader in custom anti-slip tape, floor mats, and eco-friendly products for more than 25 years.
Martinson-Nicholls provides the customer with the exact size matting needed--small, large, standard, nonstandard, special shapes and logos. Custom installations are also a specialty of the company.
Anti-slip safety tapes and treads are available in various sizes and textures from hand cut or die cut pieces to full rolls and special shapes. For more information, please visit http://www.floormat.com.