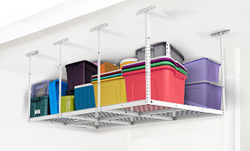 "People love the garage racks because they offer a quick way to create extra storage in your own home." -Eileen Jiang
Fremont, CA (PRWEB) June 24, 2016
Pricedepot, a leading online retailer for home and office products, announced today that it has begun a two week sale on garage racks. In addition to price breaks as low as 58% off MSRP, the popular shopping site is offering free shipping in the U.S. Customers will also get an extra 10% off when they use the discount code pricedepotgaragerack and complete their purchase through July 8, 2016.
Faced with limited room in their homes, people are looking for a way to squeeze some extra space into their storage areas. An ideal way to do this is by installing a quality ceiling rack.
Pricedepot is currently featuring garage racks from manufacturer Fleximounts at exceptionally low prices as a way to kick off its new home storage sales category. There is a special landing page designed to help people learn about the garage racks here: http://www.pricedepot.com/garage-rack/.
"The sale," says Pricedepot president Eileen Jiang, "is a way to encourage homeowners to try this essential garage storage product. You just install it yourself and then you have more space. It's so easy!"
The garage racks can be installed into wood ceiling joists or concrete. The product comes 75% pre-assembled and is promoted as a simple, one person home improvement project. There are five different size options and two color options: white or black.
"People love the garage racks because they offer a quick way to create extra storage in your own home," said Jiang.
For those seeking additional options, the racks can accommodate accessory hooks (sold separately) for hanging additional items below the rack. Garage rack accessories also qualify for the 10 percent discount with the pricedepotgaragerack promo code.
As home improvement projects go into full swing for the summer, Pricedepot.com expects a lot of demand for this new item. The sale is live now. Just make sure to enter pricedepotgaragerack in the discount code box at checkout for the additional ten percent savings.
Pricedepot has made a name for itself over the past year by providing exceptional deals on a growing number of carefully curated products.