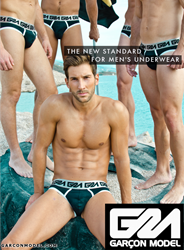 Real men have now their chance to appear in sexy underwear ads too!
Vancouver, British Columbia (PRWEB) December 12, 2013
Move over, David Beckham and Cristiano Ronaldo! Garçon Model, a Canadian underwear company, let's you (anyone) pledge on their Kickstarter campaign to become their next underwear model. Due to Kickstarter's nature, the pledging process is open to anyone, and that means you may very well have your golden ticket to underwear world stardom. Real men now have their chance to appear in sexy underwear ads.
The brand also brings an interesting twist your typical Kickstarter campaign: Instead of merely raising money in order to manufacture a predetermined product, pledgers will be able to vote at the end of the campaign for the undies of their dreams - putting the consumer in charge of some of the product development.
It's a refreshing break from the sea of boring skivvies devoid of personality and style. Customers are invited to inject their own personality into their next pair of underwear. Talk about personalized service. This could very well be the future of small batch, customer-driven production.
There are over 20 different style combinations to choose from. With so many vibrant possibilities, Garçon Model has launched a Kickstarter campaign. Garçon Model campaign begun with bang raising over $15,000 in just 3 days.
"Vancouver-based brand Garçon Model is setting a new standard in men's underwear for style with equal parts class and sex appeal. The brand features bold, colorful designs that are simple yet sophisticated. They strive to create universal pieces that every man can enjoy and look great in, whether suiting up for the office or enjoying downtime in jeans." -Michael Kleinmann, Editor-in-Chief, The Underwear Expert.
Here is the link to their Kickstarter campaign: http://kck.st/1d0TlKV.
About Garçon Model
With over two-hundred thousand units sold in the first six months since opening their doors, Garçon Model, a brand spankin' new, high-end underwear brand from Canada, has been making a big splash online and because of that, in fashion as well. Boasting an impressive roster of followers on Twitter and Facebook, this new Canadian company is a solid sign of a healthy start-up. Garçon Model has a masculine yet sexy asthetic that has begun to strike a chord in the consumer's eyes. It also doesn't hurt that their actual product is made and refined with precision, which big industry players have taken note of.
For more information or to schedule an interview with Garçon Model, please contact Mehdi Mebarki, Public Relations @ 604.773.9765 or email info(at)garconmodel(dot)com.