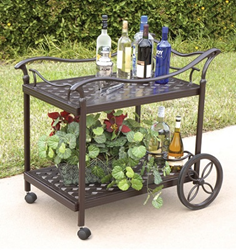 Garden carts are perfect for storing food before it's served and make it easy to clear off the table between courses to keep a garden party moving smoothly.
(PRWEB) May 15, 2014
HomeThangs.com – the Online Home Improvement Store has made their goal to deliver the right product to the consumer. With that in mind, shopping and home design tips, as well as special product selections are being introduced.
Summer is generally considered to be the season for outdoor entertaining, just the right time for big family barbecues and long afternoons by the pool. But before the full heat of summer arrives, there's a quieter, more intimate sort of outdoor gathering that's perfectly suited to spring: the garden party. A little bit more formal than a barbecue or picnic, garden parties are perfect for a small lunch or afternoon tea when the weather is warm but not hot, and the flowers are just beginning to bloom. HomeThangs.com has introduced a guide to a few of the tools needed to pull off these springtime parties.
One of the biggest differences between garden parties and summertime barbecues is that the food is usually prepared inside, not cooked outside. Especially for an afternoon tea, these meals often consist of several small courses served one at a time. To keep from having to get up and go to the kitchen between each course, it's worth investing in a small garden serving cart. These are large enough to hold plenty of food for a small group, and are designed so they can easily be wheeled in and out of the house without disturbing the food.
Garden parties are generally also smaller than big family barbecues, hosting only between two and maybe six people at a single small table. A small garden serving cart can be particularly useful here, as multiple courses of food can overfill a small outdoor table very quickly. Garden carts are perfect for storing food before it's served, and make it easy to clear off the table between courses so it won't feel so crowded.
Serving carts are also great for presentation, because they make it possible to make a really nice arrangement of food, drinks, flowers, and so on ahead of time, then cart out the full meal all at once when guests arrive. Having a well presented meal of several small, delicate dishes will elevate the formal feel of a garden party, while a simple arrangement of flowers can evoke that beautiful fresh feeling of spring.
Serving carts come in a wide variety of sizes and styles, from very round, small carts to full sized catering carts. Which one will work best depends both on the size of the parties they'll be used for and the amount of available space, both around the outdoor dining set and also inside to store the cart when it isn't in use. It's also worth keeping an eye out for accessories like built in stemware holders, bottle racks, or even ice buckets, which add functionality to the design without significantly impacting the overall footprint.
For those who don't have space to store a garden cart inside, or if it will be used for decoration as well as functionality, look for a cart made out of a heavy duty material that's both weather proof and rust proof. Cast aluminum or powder coated aluminum are particularly nice choices, as they mimic the appearance of cast iron but are rust proof and much lighter weight. Vining floral patterns work particularly well with Victorian styled metal outdoor furniture, and help add to the old fashioned, sophisticated ambiance of traditional British garden parties.
For those with very limited outdoor space as well, adding a full sized serving cart simply might not be practical. Still, serving a group at a small table and moving lots of food in and out of the house at once isn't practical either. A more traditional serving tray can make it easier to carry more items at once and cut down on trips to the kitchen.
For more information about outdoor serving carts, check out the full article here.
HomeThangs.com is not only a home improvement superstore, it also provides expert design tips and a comprehensive shopping guide, taking the ideas from professional interior designers, and offering tips to the consumers on how to pick the products to best suit their needs.