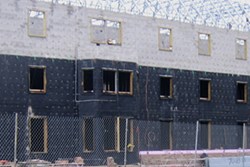 These barriers help minimize the potential for mold growth or corrosion within wall assemblies.
Cleveland, Ohio (PRWEB) January 03, 2014
As the push for more energy-efficient buildings continues, numerous building codes are now including air barrier requirements. To address these changing standards, Garland has engineered a new product line of high-performance solutions that prevent unwanted air, vapor and water from penetrating the building envelope. The Garland Aero-Block™ product line offers solutions for all six sides of the building enclosure, as well as for gaps in walls or between sections of walls.
This new polymer-modified-asphalt technology is available in three formats. The fluid-applied, solvent-based polymer and fluid-applied water-based polymer versions can be applied by brush, spray, or roller. There is also a pre-fabricated, self-adhering multi-layer membrane. The entire Aero-Block family creates vapor-closed protection, meeting the requirements for a Class I air/vapor barrier.
According to Tom Stuewe, Garland's product manager for the coatings and air-barrier product lines, "Garland's Aero systems include all the product components necessary to provide the best solution for your building and ensure long-term performance of your air barrier system. These barriers help minimize the potential for mold growth or corrosion within wall assemblies. They also protect building occupants from pollutants, second-hand smoke, cooking odors, noise, and pollen."
A companion vapor-open product line, Aero-Perm™, will become available later this year. Aero-Perm will offer the same capabilities as Aero-Block™ systems, while providing permeability to water vapor.
The Garland Company, Inc. is one of the worldwide leaders of quality, high-performance roofing and building maintenance solutions for the commercial, industrial and institutional markets. For over 100 years, Garland has continually developed unique product and service offerings that have raised the bar of performance while exceeding the individual needs of customers throughout the world. Today, our network of over 200 local building envelope professionals is ideally positioned throughout the United States, Canada and the United Kingdom to provide quality roofing solutions for single and multi-property facilities. The Garland Company Inc., headquartered in Cleveland, Ohio, is an ISO 9001:2008 certified company. To request a free electronic or hard copy, visit http://www.garlandco.com or call toll-free to be connected with your local Garland representative at 1.800.321.9336.