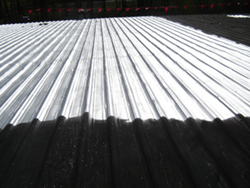 Industry experts suggest that more than 80 percent of roofs are replaced prematurely.
Toronto, Canada (PRWEB) August 26, 2014
Garland's new cold-process, low odour Revitalizer restoration systems effectively adhere to a variety of roof coatings, providing an additional 80 to 112 wet mils of waterproofing protection and helping to extend the life of the system. These easy to apply, cost-effective solutions are designed to restore the wearing surfaces of smooth or mineral asphalt and metal roofs to better than the original.
Its cold-process formulation eliminates the need for kettles, heat sources and bulky rooftop equipment, allowing projects to proceed without disruption to the building's operations and occupants. It is also extremely fast and simple to install. When combined with Garland's Grip Polyester™ Firm reinforcement fabric, the Revitalizer systems provide exceptional tensile strength and elongation. When using Revitalizer Metal, combine with Garland's Grip Polyester Soft. The system easily conforms to surface irregularities and accommodates building movement without leaking, cracking, blistering or ridging.
According to Charbel Boulos, P.Eng., president of Garland Canada Inc., "Industry experts suggest that more than 80 percent of roofs are replaced prematurely. Garland's Revitalizer systems offer an alternative solution to costly tear-off and replacement by sealing and waterproofing properly prepared surfaces and adding an additional 10 to 15 years of service life to the roof."
Garland Canada Inc. distributes solutions for today's commercial building industry coast to coast, through representatives strategically located throughout Canada. Founded in 1987 as a fully owned subsidiary of Garland Industries, Garland Canada is a multi-million dollar business that helps stimulate regional economies by working with an extensive network of locally based contractors to install high-performance roofing, wall and flooring systems for the commercial building envelope.
For more information, visit http://www.garlandcanada.com or call Marisa Rea at 1.800.387.5991.