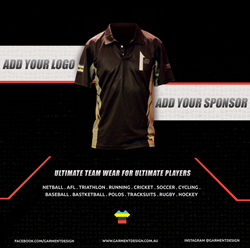 We are here to take on the big brands.
Melbourne, Victoria (PRWEB) July 18, 2014
Sublimation printing represents the latest evolution in large format display graphics and Garment Design adopts this unique point of difference as they launch their supreme quality DYO (Design Your Own) online tool for customized uniforms designed for teams and businesses.
All their apparel is sublimated, and Garment Design is the first online team wear brand that allows sporting teams and businesses to design and order their apparel all online. Sublimation enables high quality fabrics to be printed with superior vibrancy, allowing teams and businesses to create any design imaginable. Richard Buick, Director at Garment Design, explains, "We are proud to present our online DYO tool with sublimated fabrics where garments can be washed, reused without the print fading. We are here to take on the big brands."
Garment Design follows a very strict plan, engaging with manufacturers around the globe who sent their best fabrics. Mr. Buick adds, "We put all fabrics under a strenuous testing system, which included the help of over 100 active participants who supplied us with detailed feedback. That's how we came to the conclusion that the fabric we have named 'Flight fabric' is the best for active wear." It is UV-resistant, light weight, and with antibacterial properties. The combination of awesome fabrics with water-based "green friendly" inks leads to a thriving situation, taking also into consideration that green inks are considered less harmful to the environment.
The company just recently supplied UFC fighter, James Te Huna, with his team kits, hoodies, and tracksuits, and they have reached over 100 online orders already. Richard Buick informs, "There is no set up or art work cost involved. Choose from hundreds of designs to customize with colors and logos. Order sets with names, sizes, and numbers for your team members. You can upload up to 5 logos without any extra cost."
All orders have free delivery to Australia, USA, Canada, China, Europe and more. In addition, orders designed in the magnificent DYO tool and paid for online save $3 per unit. As Mr. Buick emphasizes, "We are very proud to say we have never printed a name wrong; it's very important for team wear suppliers to have unbreakable quality control systems."
Garment Design is exhibiting at the Melbourne Marathon between October 9th –12th. For further information about the DYO online tool and to order customized uniforms, visit the company's website today.
About:
Garment Design, based in Melbourne, Victoria, is Australia's No. 1 manufacturer of sublimated team wear. They provide a low cost, high quality product that could be fully customized and designed online. All their apparel is made with the most advanced fabrics of the modern time.