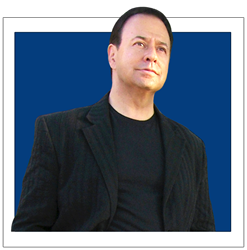 The truth is, you're most in control of your future when you're prophetically seeing the present.
Los Angeles, CA (PRWEB) February 19, 2014
Prior to winning the gold in Ice Dancing, Gold Medal Olympians Meryl Davis and Charlie White stated "We're focused on the moment and task at hand. We're not looking at the future or the color of medals." Resultantly their perspective was powerful enough to deliver the United States its first gold medal ever in ice dancing.
The biggest question at hand is, "Can we control the future, and if so how?"
Gary Zamora says "The truth is, you're most in control of your future when you're prophetically seeing the present. When we use our prophetic nature looking (or trying) to 'see' too far into the distance it distracts us from our notable point of interest, which is the present."
The power of the prophetic is often referenced as the ability to see in the distance when in reality the true power of insight is harnessed when we use it to control the moment at hand.
Gary often states, "When you control the time at hand, you control the hands of time." He believes everyone has the ability to see their future clearly enough to shape it.
The key is to employ inspirational and intuitive deftness (which Gary refers to as the prophetic) to shape the future without having to look in the distance to do it. Gary continually states; "What you need is always in your pocket."
In the climate of competition with anticipation for the gold, Charlie White and Meryl Davis resisted the temptation to be pressured by either the future or the outcome and simply harnessed their passion. They focused their vision becoming emerged in the moment.
Resist the weight of contending with the world and its challenges and take the clearest snapshot of the best change that can be made today. A prophetic future is always shaped by a clear picture of the present.
Gary Zamora is a Prophetic Leader who was born in the United States. He embodies the gift of prophecy and is an expert in situational psychology. When asked how he knows how to guide individuals so accurately, he often says "God has blessed me with the gift of knowing."
Gary Zamora is the creator of 3 top selling prophetic messages, which are widely recognized as the key and fundamental components for individuals to establish a solid and prophetic foundation in their lives.
You can learn more about him at http://www.garyzamora.com.