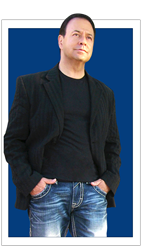 One prophetic snapshot is worth a thousand positive thoughts.
Los Angeles, CA (PRWEB) February 13, 2014
The secret is about the power of positioning your thoughts correctly, creating a certain type of magnetism that brings things your way. While many praise the effectiveness of the Law of Attraction, there are many who do not. Asking the question - "do these laws apply to everyone or am I doing something wrong?" "Why is it I'm not getting the results I'm looking for?"
Those that have experienced difficulty activating the "Law of Attraction" are not broken or off track. Gary Zamora says, "Just thinking correctly is not enough…it only engages one part of our field of gravity"
To truly benefit from all that life has to offer there are two fundamental principles missing that need to be applied; one, is the power of visualization and the second, is the power of seeing correctly by engaging the prophetic mind.
Lisa Nichols of the Secret confirms Gary's insight, as she recently touched on one aspect by acknowledging the value in creative visualization. Gary states, "I've always been a strong advocate for the power of positive thinking and visualization, which I refer to as the first aspect, but as I stated earlier there is another side. That missing link is activating the visual component through the prophetic."
The prophetic is about engaging the mind visually, giving a clear picture of how to stand in the present and clearly identify the future. We've all heard it said that a picture is worth a thousand words. Gary believes that one prophetic snapshot is worth a thousand positive thoughts.
Gary Zamora, a Spiritual Leader and Prophetic Teacher, has the gift of prophetic insight and has seen accurately for many that have been fortunate enough to be in the audience when he shares his gift. He has recently launched a free product titled the "Integrity of Your Design" and teaches people how our human design is one of our greatest assets. Gary states "It affords us the privilege of uniquely relating to God by faith. Our design is God's idea!" Those that register for the product will be the first to be invited to an upcoming special prophetic night, also free of charge.
Gary's Free Audio Download can be obtained from the following locations:
(OR)
For more information please contact:
Shaphan Roberts
818-901-1191