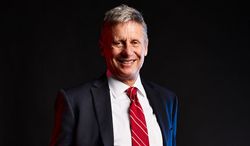 New York, NY (PRWEB) June 16, 2016
WHEN: Thursday, June 16, 2016
11:30 AM ET
WHERE: Cannabis World Congress & Business Exposition
1A Hall
Javits Convention Center
655 W. 34th Street
New York, NY 10001
http://www.cwcbexpo.com
WHAT: Governor Gary Johnson, the Libertarian Party's nominee in the 2016 election will be the first U.S. Presidential Candidate giving a special address at the Cannabis World Congress & Business Exposition (CWCBExpo) at the Javits Convention Center in New York, NY, on Thursday, June 16th, 2016.
The Cannabis World Congress & Business Exposition (CWCBExpo) is the leading business exposition for the medical marijuana and legalized cannabis industry. He is the first U.S. Presidential candidate to speak at a Cannabis trade show and conference.
Governor Johnson, who has been referred to as the 'most fiscally conservative Governor' in the country, was the Republican Governor of New Mexico from 1994-2003. A successful businessman before running for Governor of New Mexico in 1994, Gary Johnson started a door-to-door handyman business to help pay his way through college. Twenty years later, he had grown that business into one of the largest construction companies in New Mexico, with more than 1,000 employees.
Governor Johnson brings a distinctly business-like mentality to governing, believing that public policy decisions should be based on costs and benefits rather than strict ideology. Johnson is best known for his veto record, having vetoed more than 750 bills during his time in office, more than all other governors combined. His use of the veto pen has since earned him the nickname "Governor Veto." He cut taxes 14 times while never raising them. When he left office, New Mexico was one of only four states in the country with a balanced budget. Term-limited, Johnson retired from public office in 2003. In the 2012 presidential election, Johnson placed third and garnered more votes than any other Libertarian candidate in history.
An avid skier, adventurer, and bicyclist, he has scaled the highest peak on each of the seven continents, including Mt. Everest.
For more information about Cannabis World Congress & Business Expositions (CWCBExpo) visit http://www.cwcbexpo.com