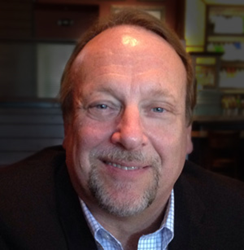 I am also overjoyed to be joining the 3DTi Board of Directors and helping the next generation of students discover their passion, and find meaningful and fulfilling jobs doing what they love.
New York, NY (PRWEB) September 30, 2014
3D Training Institute (3DTi) is pleased to announce that Gary Platt, has joined the 3DTi Board of Advisors. Gary Platt co-founded Full Sail University in 1977 and played a pivotal role in its success. He designed Full Sail's core curriculum in 1978 and received numerous industry and educational awards. Full Sail's initial mission was to train students on the production side of entertainment and music. Later, specialized associate's degrees and associate's degrees were added in computer animation, digital media, game design and development, and show production and touring. All of these degrees were later expanded into full bachelor's degree programs. Mr. Platt served as Senior Vice President and Director of Education during his twenty years at Full Sail.
Gary Platt and Eckart Wintzen, a Dutch venture capitalist and media arts enthusiast, shared a vision for creating a college with a focus on excellence in the digital arts. In 1998, they co-founded Expression Center for New Media (now known as Ex'pression College for Digital Arts.) Ex'pression College is a for-profit college located in Emeryville, California, geared toward the entertainment industry and known for its around-the-clock schedule and eight week terms. Ex'pression College offers degrees in Animation & Visual Effects, Digital Filmmaking, Game Art & Design, Interactive Audio, Motion Graphic Design and Sound Arts. The college has been recognized for its accelerated programs. Mr. Platt still serves as a Member of the Advisory Board at Ex'pression College for Digital Arts.
Mr. Platt is also a nationally recognized audio engineer and producer and his musical genius has been recognized many times by industry experts. He has been awarded numerous gold and platinum RIAA record awards from artists such as Bon Jovi, New Edition, Shaq, 10,000 Maniacs, Bootsy Collins, Midnight Starr, King Crimson, and Cheap Trick. The New York Times, San Francisco Chronicle, and the Oakland Tribune have all praised him for his brilliance and expertise.
He is also the Senior Sound Supervisor at Telltale Games which produces such notable video games such as Tales from the Borderlands, Game of Thrones, Walking Dead, Jurassic Park, and the Wolf Among Us.
Mr. Platt graduated from Ohio University and they recently honored him with the Achievement in Music Award. Immediately after graduation, Mr. Platt designed the educational program for The Recording Workshop in Ohio, which is believed to be the nations' first accelerated training program for recording. Mr. Platt also received his Masters in Business Administration from the University of Phoenix in 2007. Not only did Mr. Platt graduate with honors but he also gained invaluable insights into the many facets and advantages of online learning.
Ben Katt, Director of 3D Training Institute said, "Gary is an example of the stature of talented members on our Board of Advisors. He has a wealth of experience in the educational field and he is joining us at a very exciting time as more students are looking for alternatives to traditional college paths. His expertise in the field of digital and creative arts fits well with our unique training approach to prepare students for successful careers in a shorter amount of time."
3D Training Institute has been recognized by industry experts for their innovative training approach. Students at 3D Training Institute learn Autodesk software, 3dsMax, Maya, Revit, and Inventor by working on projects in a simulated production environment which gives them valuable experience for working in the real world.
Gary Platt said, "I am also overjoyed to be joining the 3DTi Board of Directors and helping the next generation of students discover their passion, and find meaningful and fulfilling jobs doing what they love. I'm looking forward to working with the team at 3DTi to find ways to reach more students and support their efforts to create more success stories!"
About 3D Training Institute
3D Training Institute (3DTi) is the leading provider of short-term production-based training programs in Autodesk Software. Popular trade magazines have recognized 3DTi as "One of the top schools, where students can put their careers on the fast track." 3DTi was one of the first companies to offer simulated on-the-job training in a live online production environment. 3DTi is an authorized Autodesk Training Center (ATC) and is licensed by the New York State Education Department (BPSS). For more information, visit http://www.3DTraining.com.