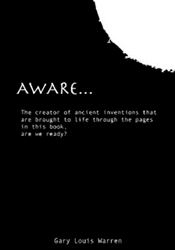 Batavia, NY (PRWEB) May 14, 2014
Inspired by his life experiences, author Gary Warren has written "Aware" (published by Lulu), a study of the principles behind life and the world as it is known.
Warren turns his gaze to the cosmos as he seeks a deeper understanding of creation and the physical world in which he lives. Particularly influenced by Nikola Tesla, Warren looks to provide readers with a greater sense of self-worth and awareness of the world around them.
Warren says that "Aware" will assist readers in "understanding the continuous creating of the universe and the mental focus, stability and responsibility behind it!"
Readers can connect with Warren at GaryLouisWarren.com.
An excerpt from "Aware":
"For clarity; it must be understood there are three forms of space-energy creation:

First creation, as non-reflected space-energy…
Second creation, as reflected and re-reflected space-energy, as re-creation…
Third creation as creativity, as organized manipulation of first and second creation…
It must also be understood the human race as we know it, mainly identifies with Third creation, as in the arts, as design, engineering, science, literature, etc. These forms of creation are more associated with creativity or creative manipulation and study of space-energy, and not actual creation or re-creation."
"Aware"
By Gary Warren
Softcover | ISBN 978-1-257-82124-2
About the Author
Gary Warren lives and writes in Batavia, New York.
Lulu empowers people of all ages to explore and express their interests, passions and expertise through books, photography and art. Since introducing self-publishing in 2002, Lulu has empowered creators in more than 225 countries and territories to produce nearly two million publications. Lulu Jr. allows children to become published authors, encouraging creativity, strengthening literacy and building self-esteem. Picture.com offers professional photography of collegiate and professional sports, memorable and historic events, fine art and home décor. For more information, please visit lulu.com.