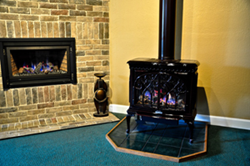 San Mateo, CA (PRWEB) May 09, 2014
Creative Energy is excited to announce that they have recently added the fireplace line Fireplace Xtrordinair to their collection. The new line will be at the Pleasanton location and will complement the Avalon Fireplaces line.
Fireplace Xtrordinair offers a wide selection of premium quality gas fireplaces, gas inserts, wood fireplaces, wood inserts, electric fireplaces and more. Each product is custom crafted with an expert attention to detail. The brand also has a reputation for energy efficiency and innovative design.
Creative Energy is also now offering more gas fireplaces and gas fireplace insert options, adding more models to their wood-burning fireplaces, as well as stove displays and linear gas fireplaces in three different sizes. They are also remodeling their fireplace showroom at the Pleasanton location.
Creative Energy is always looking to improve their collection of products available to their current and prospective customers. With the new changes and additions, they aim to provide a better fireplace showroom experience for Pleasanton customers.
Creative Energy is the Bay Area's number one hot tub and fireplace dealer, offering only the world's leading products. Their showroom in Pleasanton is located at 7116 Johnson Drive, Pleasanton, CA 94588. Stop by today to check out all the new products. For more information, call 925-551-7100 or visit http://www.creativeenergy.com/.
About the company:
Creative Energy Corporation, founded in 1975 by Rolf Engelhard and Denis Kasten, is the Bay Area's exclusive Hot Spring® Portable Spa dealer. A family-owned and operated business, Creative Energy provides award-winning hot tubs, spa tubs, wood-burning stoves and gas fireplace service to thousands of satisfied customers at their Bay Area locations in San Rafael, San Mateo and Pleasanton.
Creative Energy's mission is to be the top spa dealer and service provider in the world. They are accomplishing this by retailing the highest quality spas in the industry while maintaining the most knowledgeable, dedicated staff. For more information, visit their website.