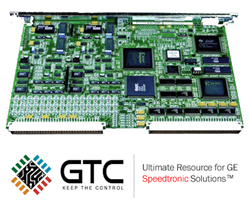 GTC serves the needs of users operating Speedtronic Mark I, Mark II, Mark III, Mark IV, Mark V, Mark VI, Mark VIe, and LCI controls in the Power Generation industry.
(PRWEB) May 08, 2015
Gas Turbine Controls (GTC), a leading provider of classic GE control replacement parts, repair services, training, and field services for the power plant controls sector, will be attending the 7F Users Group Annual Conference on May 10-15, 2015, at the Sheraton Denver Downtown in Denver, CO.
The 7F Users Group is one of the leading OEM-sponsored events for F-class gas turbines in use throughout the Power Generation industry—and a major point of convergence for companies like GTC, which seek to engage and present solutions to customers and prospects alike.
GTC has an active participation in user groups and conventions that create a platform for marketing and communicating value to gas turbine operators who seek to modernize and enhance their control systems with GE-brand turbine control and excitation circuit boards and components.
This 7F event will focus on opportunities to increase gas turbine performance, reliability and operability—all of critical importance to Power Generation turbine operators who are on a constant quest to maximize revenue and reduce the risk of technical failures that can hinder their profitability.
"The 7F User Group continues to serve as a staple core of our business development efforts," said Roger McLean, Client Development at Gas Turbine Controls. "Our broad customer base understands the importance of attending this event, supporting the Vendor Fair to maintain our industry leadership."
Gas turbine controls obsolescence is a recurring topic where GTC continuously supports owners and operators who seek to extend their Speedtronic control systems' technical lifetime.
GTC has been delivering results based on its knowledge and experience of this type of gas turbine controls, an effort that has rewarded the company with a reputation for its exceptional customer service and large stock of GE-brand components and circuit boards.
The company serves the needs of users currently operating Speedtronic Mark I, Mark II, Mark III, Mark IV, Mark V, Mark VI, Mark VIe, and LCI controls, along with providing technology components for the EX2000, Alterrex and Generrex excitation systems.
GTC will exhibit at Booth 43 of the 7F Users Group Vendor Fair and Roger Mclean will be present to answer questions, also in attendance will be GTC President Peter Zinman and Marketing Director, Lisa Delliacono.
About Gas Turbine Controls
Gas Turbine Controls (GTC) is a leading supplier of replacement parts, repairs, training and field services for GE power plant control systems, specializing in turbine, excitation, and generator controls as well as GE vibration monitoring, and other GE related control systems. Based in Ardsley, New York, GTC is known for its vast inventory of spares and its unique functional testing and repair capability, field services and training courses, making them a crucial source to any operator of gas and steam turbine controls in use throughout the power generation and oil and gas industries, as well as drive controls used in the steel, aluminum, and paper industries.
For more information about GTC, its products and services please visit http://www.gasturbinecontrols.com.
Media Contact:
Lisa Delliacono
Director of Marketing
Phone: 646-384-5168
Email: ldelliacono(at)gasturbinecontrols(dot)com
###