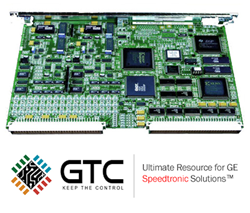 Ardsley, NY (PRWEB) June 08, 2015
Gas Turbine Controls (GTC), a leading provider of classic GE control replacement parts, repair services, training, and field services for the power plant controls sector continues to develop its global market as an exhibitor at the 23rd edition of POWER-GEN Europe, to be held June 9-11, 2015 in Amsterdam, The Netherlands.
GTC is known worldwide for its extensive inventory of circuit boards in use throughout the Power Generation Industry's turbine control systems, allowing this reputation to precede the company's presence in such an important industry event.
As a leading Power Generation Industry Event, POWER-GEN Europe serves as a gathering ground for the leading gas turbine OEM companies, aftermarket service providers and parts suppliers dedicated to maintaining energy equipment in operation beyond its technical lifetime.
The event gives GTC the opportunity to engage gas turbine users and other technical personnel to gain knowledge of current challenges experienced by European power plants and utility companies—and thus, produce solutions to better serve and enhance their operation.
In Europe, GTC actively markets a variety of control and excitation circuit board for gas turbines, as well as asset recovery, testing, repair, and training; all services designed to serve the needs of power plants and gas turbine equipment to support their ability to keep up with market demand.
"The opportunity to exhibit at POWER-GEN Europe gives our company access to other markets across the EMEA region," said Roger McLean of Gas Turbine Controls. "American innovation has always been present in the global energy market and thus, GTC is attending to contribute with our offering to GE Speedtronic control system users."
Given its experience in power generating turbines, control and excitation systems in use across the industry, GTC offers circuit boards for not only General Electric equipment, but also for turbine equipment from Westinghouse, Woodward, Siemens, and other leading OEM.
Representing GTC at POWER-GEN Europe are Roger Mclean, Lisa Delliacono and Abel Rochwarger and the company will be exhibiting at booth 4C2 at the U.S. Pavilion of the event at the Amsterdam RAI Exhibition and Convention Centre.
About Gas Turbine Controls
Gas Turbine Controls (GTC) is a leading supplier of replacement parts, repairs, training and field services for GE power plant control systems, specializing in turbine, excitation, and generator controls as well as GE vibration monitoring, and other GE related control systems. Based in Ardsley, New York, GTC is known for its vast inventory of spares and its unique functional testing and repair capability, field services and training courses, making them a crucial source to any operator of gas and steam turbine controls in use throughout the power generation and oil and gas industries, as well as drive controls used in the steel, aluminum, and paper industries.
For more information about GTC, its products and services please visit http://www.gasturbinecontrols.com.
Media Contact:
Lisa Delliacono
Director of Marketing
Phone: 646-384-5168
Email: ldelliacono(at)gasturbinecontrols(dot)com
###